Building a Media Kit (in Notion)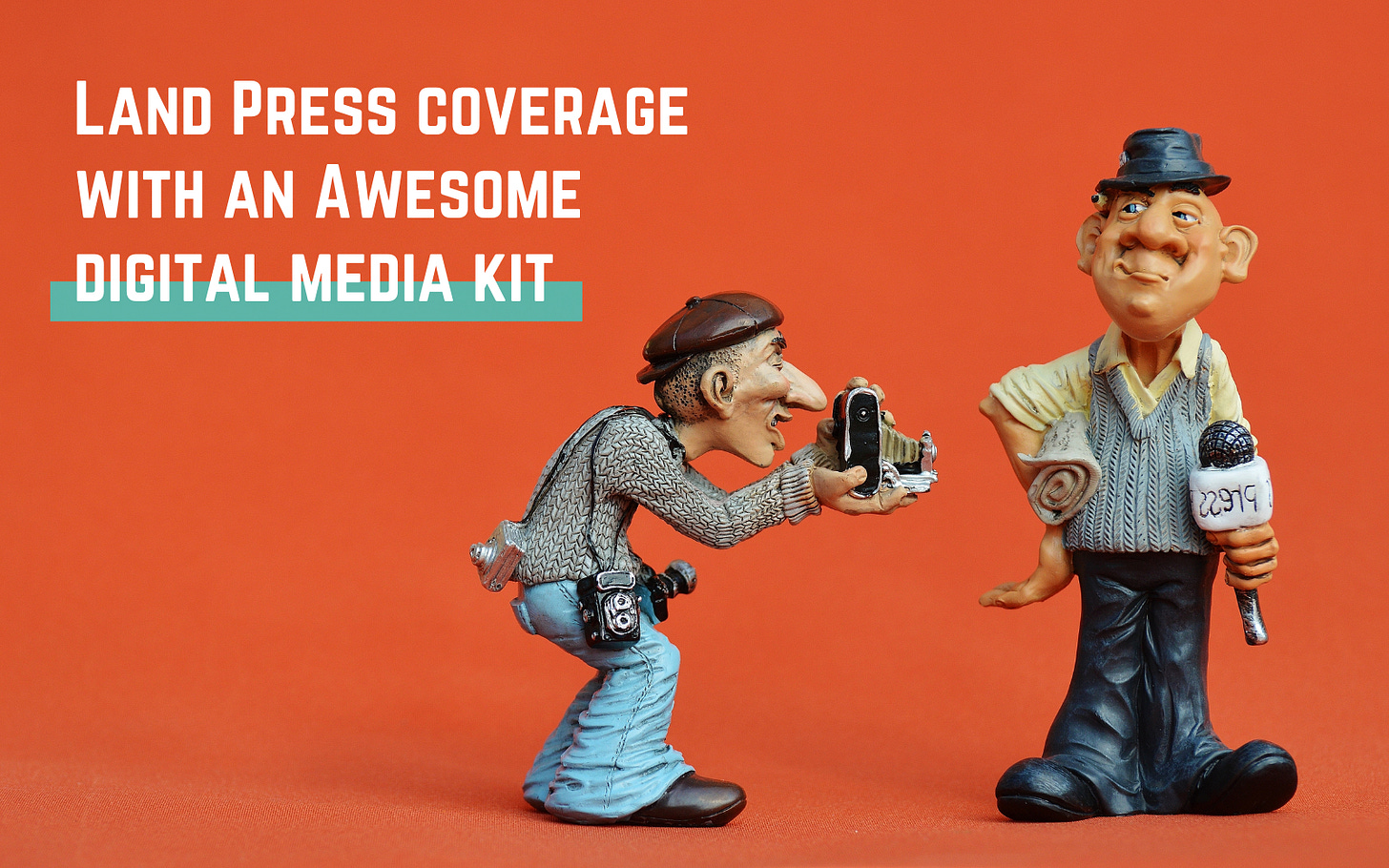 I've been managing almost all of the aspects of my book launch – and I've had a lot of fun doing it. When I set out to write the book, I didn't realize how much work would be involved. You don't just write a book, obviously. Like any good founder, I was naive.
As we inch closer to launch, the next thing on the list is media outreach. In case you don't know, I was a junior publicist early in my career. I worked for a boutique music PR firm in Los Angeles called MSO. David Bowie was one of our clients. It's in Chapter Two: Chasing Dreams.
Before reaching out to media, you need to get all of the information that a journalist would need into a single place where they can access it easily. You want to make it easy to work with you. People want to work with you when it's easy to work with you. So, how did I organize everything for media outreach.
I built a Media Kit in Notion.
Since I just finished up and started sharing it with journalists, I figured I'd share it with you too. Let's break it down, piece-by-piece.
---
Header Image and Table of Contents
One of the things I love about Notion is that you can add a custom header image to each page. And yes, I add one to every single page I create. It's almost become a creative exercise for me. Normally I'm asking myself, "what's a clever, perfect image for this page?" In this case, I kept it simple. I wanted the journalist to see the book's title and subtitle immediately. If it's a good fit, great. If not, they can move on quick.
And yes, you need to research every person you contact. Only contact them if it aligns with their interests. Don't send a pitch to a giant bcc list.

Right below the header image, I decided to throw in a table-of-contents, for two reasons:
It can be helpful to the reader to be able to jump to a particular section immediately.

It was super easy to do, so why not? TOC is a built-in feature in Notion.
---
The Hook
You have seconds to capture their attention. This is where the hook goes. Mine is in yellow🤞
What's a hook?
A narrative hook (or just hook) is a literary technique in the opening of a story that "hooks" the reader's attention so that they will keep on reading. The "opening" may consist of several paragraphs for a short story, or several pages for a novel, but ideally it is the opening sentence in the book. - Wikipedia
I clearly went high-drama with mine 😆
---
A Blurb (aka Social Proof)
Social proof is based on the idea of normative social influence, which states that people will conform in order to be liked by, similar to, or accepted by the influencer (or society).
When you're browsing a landing page and see a testimonial from an industry expert you respect, that's social proof.
Huge thank you to Jenny Fielding for giving the book an early read, providing lots of great advice, and sending over this amazing blurb (aka social proof).
---
Give Them Something
I was lucky here. I have the perfect giveaway, my book! If you don't have something tangible like this, get creative.
Basically, you want to hand them a story. In addition to the book, I provided a handful of startup details in the email, with a link to the resources where I found them. Again, make shit easy for people.
Here's a great article on pitching from Publicize:
---
What's This About? Why Should They Care?
Based on who I'm pitching, I have a Key Ideas section that gives the journalist a high-level overview of the main concepts in the book.
Bullet points work well. They're easy to scan and digest.
---
About (Obviously)
In this section, I included my complete bio, as well as two high resolution photos – one in landscape and one in portrait. Give them options.
---
In this case, since I'm pitching a book, I need to include the cover art. Since the designer also created an amazing set of illustrations for the interior of the book, I decided to include those too.
I organized them in an inline database in gallery view. The best way to showcase images in Notion, IMO.
I didn't want this section to overwhem the page, so I decided to bury the links to download the cover and interior instructions one page deep in the Media Kit. When a journalist selects an image to view, they're taken to the page that includes the download links.
---
And finally, the nitty gritty details are outlined at the bottom, including Title, Subtitle, Publisher, Publication Date, and...
My very own ISBN!!! 🎉
Until next time,
✌️Lynsie
---
Subscribe to Chirps, my weekly newsletter about startup stuff, no-code tech, and all things marketing.
---
#blacklivesmatter #womxnrule #legalizeit #investinthemidwest