Discover more from Lynsie Campbell
I'm a 2x tech founder, pre-seed VC, & author of This Better Work. I publish two newsletters. Microdose Marketing: 1 minute reads on specific marketing topics & This Better Work: Startup advice, pre-seed investing insights, and weird personal stuff. Enjoy!
Building a Resume in Notion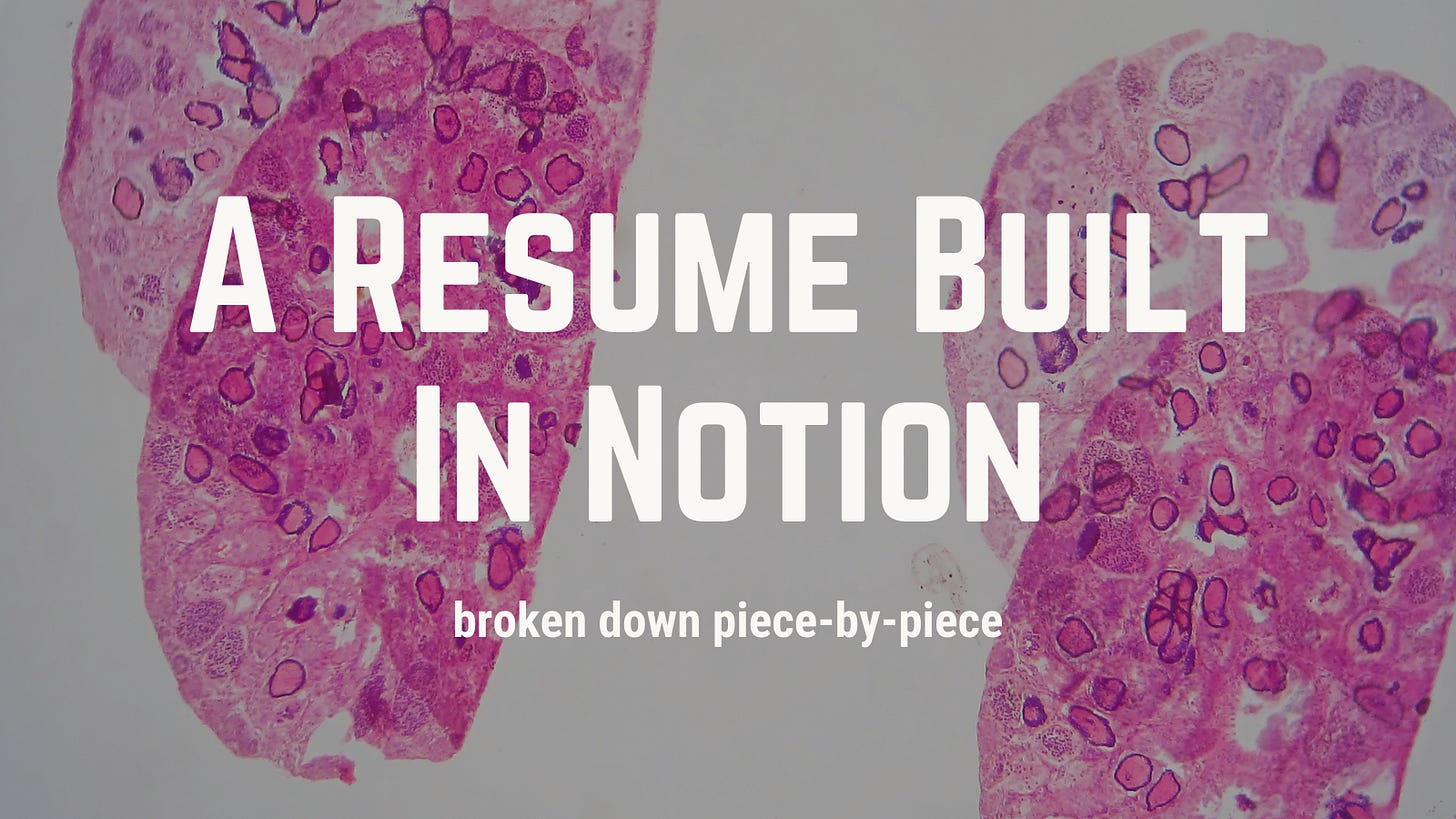 Hey friends!
I recently converted my .pdf resume into a digital version, using Notion.
Creating a resume in Notion is such a fun, easy way to stand out when you're on the hunt for a job. If it's time to give your resume a refresh, check this out for a few tips (from a hiring perspective).
Here are the pieces of my Notion resume, broken down piece-by-piece.

---
Strong Intro
Put the best stuff at the top!
This is also a great place for customization, based on the type of role you're looking for. I'm interested in joining a kick-ass team in a full-time leadership role, but (in the meantime) I'm also open to freelance writing jobs. You're seeing my tech leader / go-to-market specialist intro.
I have two different resumes for these opportunities and I share them accordingly.

---
Experience Overview
There are two different ways you can approach this section.
Focus on the high-level and let them dig (one click) for more details.

Lay it all out like you'd see in a traditional resume.
Since I have 20 years of experience 🤯 that I'm trying to showcase, I decided to go the high-level route.
To do this, I inserted an inline database in gallery view, displaying the details that I think are most pertinent. If someone wants more details, they can click in and get the scoop.
If you only have a couple of jobs on your resume to date, use the space to highlight that experience, focusing on your willingness to learn and grow.
Tip: Include a quick, one-line overview of the companies listed on your resume. This context is super helpful, and again, it's one less Google search that a hiring manager has to do when reviewing your credentials.

---
The .pdf Version
While the digital version is a fun, easy way to share your resume with anyone and everyone online, some people will still want and need that printable version.
Make it easy for someone to access the traditional .pdf version by adding a file link directly on the Notion page.
---
Make It "You"
For me, that means I have to add a little bit of humor (or at least what I think is humor). This will be different for everyone, but make sure you leave your mark on your resume. It should look, feel, and sound distinctly YOU.
I added a little bit of humor throughout the Notion page in a few ways. One of those ways: Fun Facts.
Did you win the spelling bee in 3rd grade? Throw that on there!

Can you solve a Rubix Cube? I want to know that!

You brew beer at home, huh? Add me to the holiday list!
And any chance I have to make fun of the Pirates, I'm taking it.

---
Your Skills
If you work in tech, list the stuff you know how to use. We don't expect you to know everything, I promise.
This is about what you've learned and that you're willing to learn. And that you know it matters.

---
Portfolio Support
If there's any work that you do "outside of work" that showcases what you can do professionally, make sure you highlight that.
I'm clearly passionate about early-stage tech, love Notion, and can design almost anything in Canva. My blog posts prove that, so I'm sharing them. And the book, well, obviously! 🥳

---
Don't Forget the Contact Info
Make it easy to find this. And you might as well make it easy for the hiring team to view your (public) online profiles too since we're gonna Google them anyway 🤷‍♀️

---
View the final version

If you're looking for a job at a tech startup, creating a Notion resume is a great way to showcase your skills and introduce yourself to your (hopefully) new co-workers.
Lots of startups are using Notion to power their internal communication. In fact, when browsing jobs, pay attention to how many job boards and postings are being shared through Notions.  

Until next time,
✌️Lynsie
---
Subscribe to Chirps, my weekly newsletter about startup stuff, no-code tech, and all things marketing.
---
#blacklivesmatter #womxnrule #legalizeit #investinthemidwest