Discover more from Lynsie Campbell
I'm a 2x tech founder, pre-seed VC, & author of This Better Work. I publish two newsletters. Microdose Marketing: 1 minute reads on specific marketing topics & This Better Work: Startup advice, pre-seed investing insights, and weird personal stuff. Enjoy!
The Business of NFTs, Another Fund Midwest Investment, & A Call For Studio Builders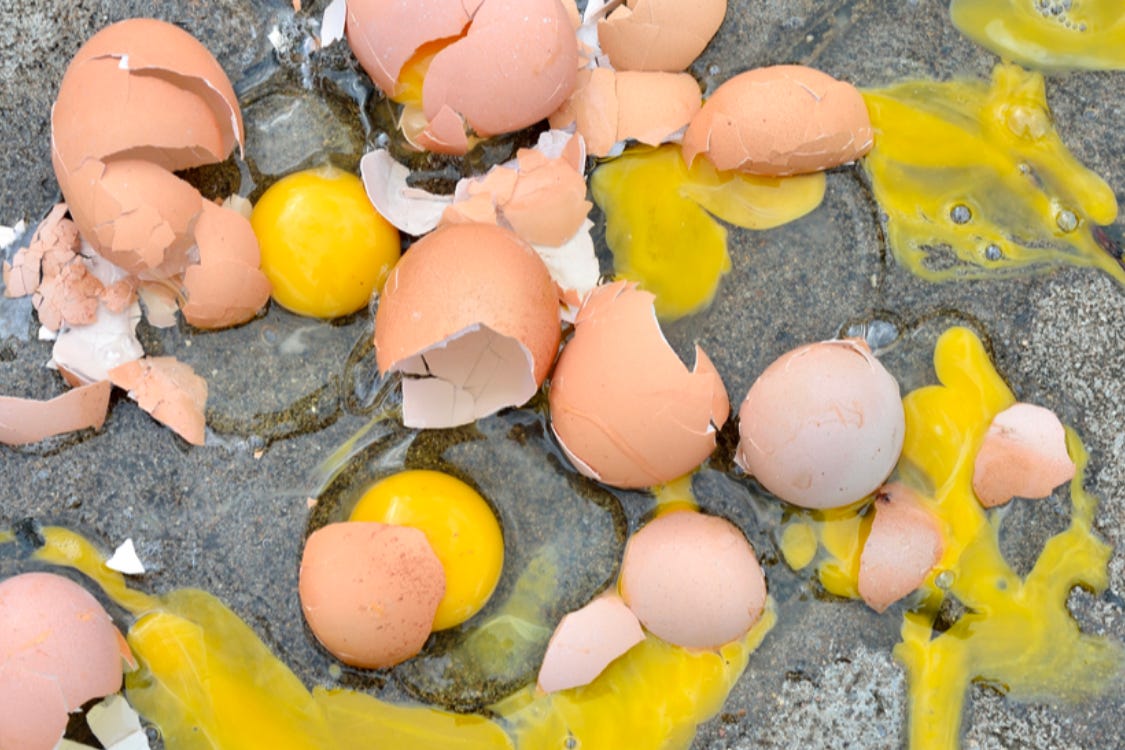 I can't tell you how thankful I am that the snow is finally disappearing in Pittsburgh! It was seriously starting to get me down. So much so, that I was starting to feel this reporter's vibe.
If this video hasn't been passed along to you yet, I highly recommend giving it a watch. It's so so so funny.
And now to our regularly scheduled, less pessimistic, programming.
Happy Friday, friends!
---
An Airtable Form For Interested Builders!
Now that we have Airtable up and running, it was time to build a database to store info for all interested collaborators. I'm super excited about this part of the process.
The database contains four tables:
Founders

Advisors

Builders

Beta Testers
I decided to focus on builders first since I want to start to bulk up the arsenal of amazing collaborators ASAP. These are the people who will work with us to lay the foundation for our startups. Web designers, UI/UX folks, and engineers.
The table itself is simple – it includes basic contact information, a field to include a link to a website or portfolio, a section to tell us a little about yourself, and more.
The next step was to create a form that people could fill out. Amazingly, Airtable offers a FREE form solution to easily collect data to be plugged into the database. You can't customize the free version, but who cares?!?! It's FREE!
Here's a quick 2:30 video on how to do this. It's really, really easy.
And finally, if you want to work with Hooman, fill out this form! We'd love to talk!
---
Meet Beyond Ranked
I said it once when I profiled Warp World. And I'll say it again. The streaming world is booming. This is why The Fund Midwest team is also super excited about our fifth investment, BeyondRanked!
BeyondRanked is a first-of-its-kind platform for gamers to discover and book esports commentators.
Read all about our fifth investment in this post!
---
Hooman on Social
On my To-Do List this week – grab the social accounts for the studio! You'd think this would be an easy task. But it's me, so, nope. Twitter and LinkedIn went as planned, but when I went to grab the Instagram account, I was served this message:
"The IP address you are using has been flagged as an open proxy. If you believe this to be incorrect, please visit https://help.instagram.com/"
The simple tasks always end up being complicated. Luckily, David Evans forced me to use my common sense and told me to connect my computer to my phone to bypass this – and it worked. Whew.
Fresh social accounts are terrifying. Drop a follow if you have a minute so we're not screaming into the abyss when we start to post.
Side Note: I ran my IP Address through an IP blacklist checker and it is, in fact, blacklisted by some. I'm assuming this is because of the excessive amount of emails I send? Future post: How to change your IP Address???

---
The Business of NFTs
My job as an investor and startup builder requires that I know what the kids are up to these days – and that most definitely includes NFTs. Here are a few things I sunk my teeth into this week.

Have you heard people rave about non-fungible tokens (NFTs)? Wondering how they can be used for business? To discover a deep into the world of digital goods and what you need to know to use them in your business, Michael Stelzner interviews Brian Fanzo, a digital futurist who translates the trends of tomorrow to inspire change today.
How NFTs Can Help You Build Community

How NFT Airdrops Work

How Proof of Attendance Works

Culture and Communities Built Around NFTs

Business Use Cases for NFTs

Where NFTs Are Headed in the Future
If you'd prefer to consume the details with your eyeballs, here's the article on the episode, from Social Media Examiner.
While this is a good overview of NFTs, my favorite (and the most straightforward) explanation I've seen so far came through a Twitter thread that was brought to my attention by a like from my friend, Jerimiah Lancaster.
A month or so ago, I decided to mint some of my son's art as NFT's.
Because I think his art is cool.

I wanted to learn how NFTs work.
After a failed attempt with OpenSea (I still can't figure out what I couldn't get it to initialize my MetaMask wallet), I moved on to Rarible. If you're interested in testing out the process, follow this two-step tutorial from John Sobanski.
And of course, this post wouldn't be complete if I didn't showcase the kiddo's NFTs! Click here to view them on Rarible!
All this said, yeah, there's still reason to be concerned about crypto. Case in point...

A rapping tech entrepreneur, who goes by the name Razzlekahn, and her husband allegedly laundered billions in hacked cryptocurrency.

---
What the Tech?!?
Yeah, yeah, yeah, I just shared a link to a podcast on Spotify above, but this whole Joe Rogan thing may be the tipping point for a lot of people to finally jump ship from Spotify.
I've been a LONG TIME user. I've been loyal to Spotify since 2010. Back then I was arguing with the ShowClix engineers about Spotify vs Rdio (which died in 2015). Yeah, I've been a paying customer for that long. Until this week.
I took the leap and jumped ship. And not just because of Joe Rogan, but also because of the lack of HiFi.
So, where did I land when I jumped: Tidal.
And the switch was easy. I created an account, used Soundiiz to transfer over my playlists, and HOLY SHIT, I had no idea what I was missing. The sound coming from my Kanto YU2 speakers on my desk is unbelievable. The first song that popped up after the switch was one of my all-time favorite songs: Elephant Gun by Beirut. In HiFi, it's even more glorious.
I'm so glad I made the switch.
If you're also considering doing the same, here are a few articles from The Verge that may be helpful:
All I'm going to say about this is, need for my son.

I love this so so much.
This qualifies as tech only because Jeff Bezos is one of the most well-known tech founders in the world. He also seems like an absolute dick. Case in point, this photo:
OK, Space Cowboy 🙄🙄🙄
Anyway, if you haven't been following along, Jeff Bezos chose to have his mega yacht built in the shipbuilding city of Alblasserda by the company Oceanco. He then chose to build the yacht so big that it can't leave the city without passing under Koningshavenbrug Bridge – and the sails are far too big. So, the city has to dismantle the historic bridge so jerkface's mega-yacht can squeeze through to head out to sea.
Talk about entitlement. So, to the people of Rotterdam, I say, throw those eggs! Throw as many eggs as you can possibly throw!
That's all for today. Head out and wreak some havoc this weekend!
Until next time,
✌️Lynsie
--
lynsiecampbell.com
buildhooman.com
thefund.vc
Buy my book, This Better Work, on Amazon!
Connect on LinkedIn & Twitter.
---
Subscribe to Chirps, my weekly newsletter about startup stuff, no-code tech, and all things marketing.
---
#blacklivesmatter #womxnrule #legalizeit #investinthemidwest