Discover more from Lynsie Campbell
I'm a 2x tech founder, pre-seed VC, & author of This Better Work. I publish two newsletters. Microdose Marketing: 1 minute reads on specific marketing topics & This Better Work: Startup advice, pre-seed investing insights, and weird personal stuff. Enjoy!
Community Curious, Tesla-Inspired Shoes, and Values Over Valuations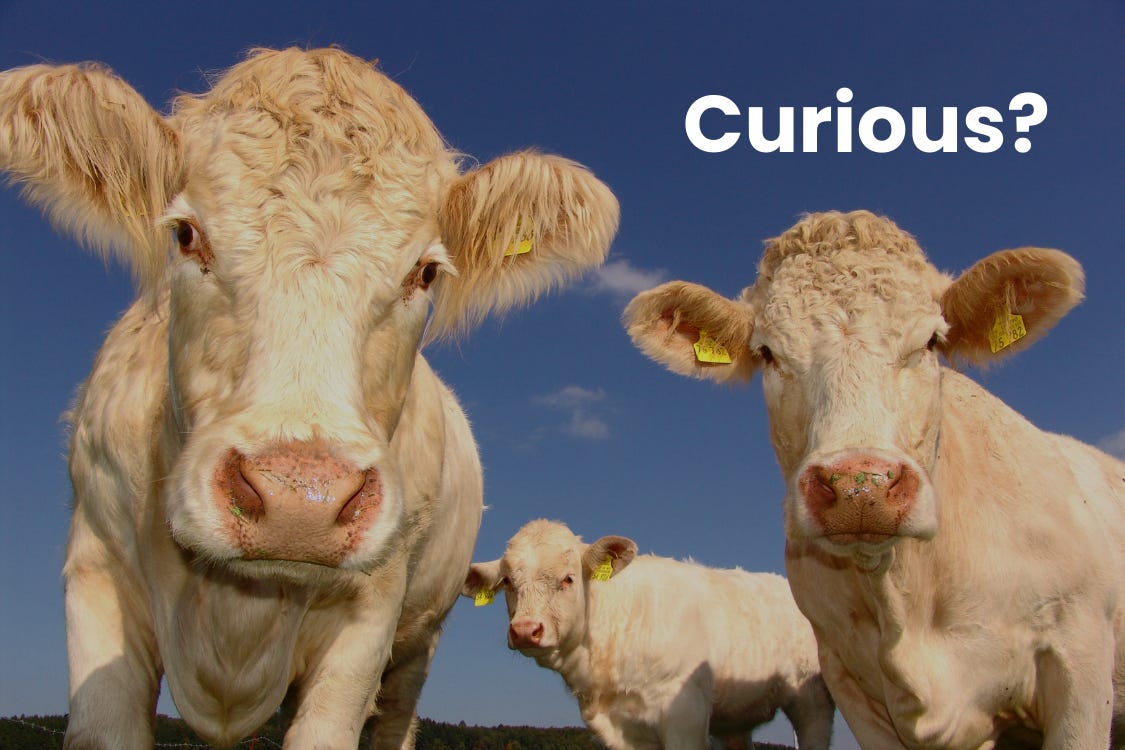 The video that made me go 😳 (and then 🤔) this week comes to us from the Rock Cobbler gravel bike race in Bakersfield, CA.
I have SO MANY QUESTIONS for this guy.
WTF are you doing biking past a god damn bull acting like it's nothing?!?

Did this affect your Strava segment time? If so, I know you're def pissed.

And the most important question. Is the bike OK???
Happy Friday, friends!
Get out there and take the bull by the horns. Maybe? 🤷‍♀️
---
It's All About Community
I've been thinking a lot about community – and what it means for Hooman. Mostly because I know that the community we build and support will be core to our success. Here's some reading I did on the topic this week.
The Math Ventures blog provides a solid source of learning material for founders and investors. Over the last few weeks, they've published a series of posts about the importance of community for startups.
Two of the three parts have been released. You can check them out here:
Part 1: Venture Curious: NOW is the Time for Community
Part 2: Venture Curious: Marketing is Dead, Lead with Community
Part 2 includes a list of community management tools, including Commsor, Ahoy Connect, and EcoMap.
One tool that isn't listed (that I love for community building) is Slack. Everyone already knows how to use it and you can start with the free version!
Check out How To Set Up A Community With Slack And Why Slack Is Better Than A Facebook Group.

Before reading the Math Ventures posts, you can always go back to the basics.
What is community?
According to Startup Jedi, community is  active customers that are loyal to your brand who can bring great benefits to the company for free. Included in this article:
What is community management?

When do you need a community?

How to create a community.

Requirements for a community manager.

And The Best Community. Community, the TV Show.
This show was so so so good. Mostly because of Joel McHale ❤️, but also because of the writers (aka Dan Harmon).
They were forward-thinkers, as you can see from the clip below about the future community – the metaverse.
The scene from Season 6, Episode 2, titled Lawnmower Maintenance and Postnatal Care. It was written in 2015. Like I said, forward-thinkers.
Side note: One time, Joel McHale sent me a DM on Twitter and it was the best day of my life. But that's a story for another time.
---
Meet REZA
Speaking of community, REZA is a company that knows how to do it right!
The sixth investment from The Fund Midwest, REZA is a Detroit-based footwear brand and community. The founder and CEO, Mustafa Syed, has developed the world's most advanced lighted footwear technology, which includes a Tesla-inspired solid-state lithium battery and laser diode.
This company is on fire, selling out their first shoe drop in under TWO HOURS! Did I mention that each pair comes with an NFT???
Learn more about REZA in my blog post.
---
Hooman: Our Values
The team has been thinking (and talking) a lot about what matters to us when it comes to the founders we invest in and the startups we build.
One thing we know for sure is that Hooman is all about people. As a team, we're committed to taking a people-first approach to building businesses. This is at the core of our values and mission, which is:
Every day at Hooman, we will...
Foster a culture of caring. Leaders will care about their team, teammates will care about each other, and everyone in the company will care deeply about customers – and the company's purpose.

Focus on impact. On each other, our customers, and society. Our work will be meaningful.

Be rooted in feedback. Not just collecting it, but listening to it – and letting it guide everything we do, from development to marketing to customer service.

Never stop learning. We're obsessed with development and growth—both inside and outside of the workplace.
If you share these values, we want to talk to you!

---
What The Tech!?!
Let's start with startup valuations. David Mandell, Managing Director of Massive and General Partner at The Fund Rockies said it best in this Tweet this week:
This has most certainly been a year for startup valuations. And for those of us investing at the earliest stages, we've had to be patient – and pass on a lot of deals (thanks to the skyrocketing numbers).
So, what has pre-seed and seed looked like lately?

Things go super weird in 2021. Early-stage valuations spiked to new heights (see chart above). Why? Some say it was a VC bubble. Others blame it on larger investors plowing into seed. Or, maybe it's just the new norm. Only time will tell.
The amount of pre-seed money companies raise varies tremendously. Many sources cite the average amount as less than $1,000,000. However, that's on the higher side for pre-seed funding.
FYI: This is where The Fund Midwest invests.
That said, you know who doesn't give a fuck about startup valuations...

Honestly, I love this. I don't even care if it's crazy. There's something beautiful about getting to the point where you just don't care (or it doesn't matter) what anyone thinks anymore.
In a recent interview over Zoom, Breslow was unapologetic. He gestured to a painting behind him depicting what he said was an aerial view of a hurricane and tapped its center, "That's where I operate."
Here's the Twitter thread that started it all.
It feels good to speak your truth. I can vouch for that.

---
Who Needs Marketing Help?
Hooman won't be able to invest in every company, but we can try to help as many as possible be successful!
While we continue to put the pieces of our fund + startup studio together, the Studio Team is ready to start working with consumer-facing tech companies and CPG brands.
Need help? Hit me up! Details here.
Until next time,
✌️Lynsie
--
lynsiecampbell.com
buildhooman.com
thefund.vc
Buy my book, This Better Work, on Amazon!
Connect on LinkedIn & Twitter.
---
Subscribe to Chirps, my weekly newsletter about startup stuff, no-code tech, and all things marketing.
---
#blacklivesmatter #womxnrule #legalizeit #investinthemidwest