Discover more from Lynsie Campbell
I'm a 2x tech founder, pre-seed VC, & author of This Better Work. I publish two newsletters. Microdose Marketing: 1 minute reads on specific marketing topics & This Better Work: Startup advice, pre-seed investing insights, and weird personal stuff. Enjoy!
Pitch Perfect, DIY Everything & Russian Jet Tracking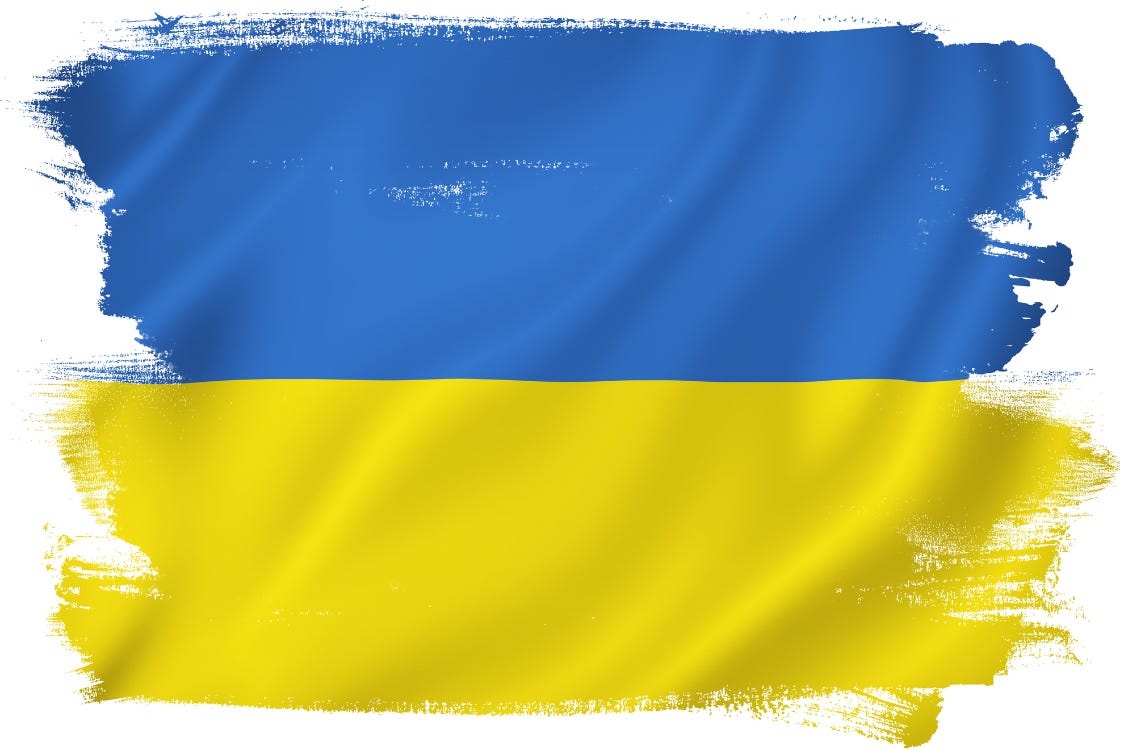 My heart has been heavy over the last week. I couldn't write this week without writing something about what's happening in Ukraine.
I built my second startup, LaneSpotter, with an AMAZING team of engineers, designers, and project managers who were based in Vinnytsia, Ukraine. My friends from that team are in the picture above.
Their town of Vinnytsia is located 160 miles southwest of Kyiv.
I loved working with this team so much. I talk about my relationship with them in my book (page 100).
We did daily standups every morning at 8:30 am (EST). Most of the time, Dylan, who was 18 months old at the time, was sitting next to me at the kitchen counter. We talked so much, for such an extended period of time, that they became my friends. I did some of my best work when I was working side-by-side (albeit virtually) with this crew. Mostly because they were so very talented.
I haven't been able to stop thinking about them as I watch the horrific news coming out of their country.
Let's open with some tech stories that have bubbled up from the war in Ukraine.
Happy friday, friends. Stay positive.
---
Tech For Ukraine
While there's not much I can do to help (other than make a donation toward humanitarian support), others in the tech community are standing with Ukraine and providing resources. Here are a few of the most recent headlines.
The last one is my favorite. Mostly because the exchange between 19-year-old Jack Sweeney and Elon Musk was so fantastic. Elon offered Jack $5,000 to stop tracking his jet. His response:
"5,000 is not enough for how much I get out of it," Sweeney said. "It doesn't replace anything, like the enjoyment factor."
If you want to follow Jack's tracking of the Russian jets on Twitter, here are links to the accounts:
---
Pitch Perfect
Above is one of the slides from the pitch deck for Better Work Ventures. And this week, for the first time ever, I used this deck to pitch Better Work Ventures to an investor!!! #milestone
HUGE THANK YOU to Bill Trainor from Mutual Capital Partners for taking the time to review my slides and sit through my very first pitch. He provided amazing, helpful, critical feedback that will make my next pitch 10x better.
So, what's my biggest piece of advice on pitching and presenting?
Start with a story!!!
Founders, open your deck right now. If you're not opening with a story about one of your customers (or potential customers), change that immediately. Hook your audience by making it real and personal. Walk them through the problem that your customers are facing – and how you can help solve that problem.
And with that, here are a few of my favorite resources on storytelling, presenting, and crafting the perfect pitch.
Get Backed isn't just about startup fundraising. It's a handbook for anyone who has an idea and needs to build relationships to get it off the ground.
This book was gifted to me by Techstars when I started the Mobility program in 2018. I've referenced this book dozens of times in the years since then. If you're a founder, it's worth having a copy of this on your bookshelf. Check out the book's official website here.

David JP Phillips is an international speaker, author, and coach in Modern Presentation Skills. In this TEDxTalk, David explains why storytelling is such a powerful tool, and how using a story can make something gain monetary value.

The first moments of your presentation, no matter how brief, are a huge deal. They have a massive impact on what follows – and whether or not your audience follows along.
---
Speaking of speaking, I was recently asked to be the keynote speaker at Penn State University's Startup Week, so I'll be revisiting a lot of these resources myself over the next couple of weeks. I'm super excited about this as someone who used to stomp around State College. It's been a long ass time since I've been back.
Side note: I'm totally open to speaking engagements! If you need someone to speak to a group of founders, students, or women in business, let me know.
---
Meet Character
Home buying is at a record high. And thanks to shifts in the way we work, people are spending more time at home – and investing more in the spaces where they live and work than ever before. Mix in the fact that service providers and contractors are at very low supply, a lot of trends are driving DIY.
Meet Character, the third investment made by The Fund Midwest. This Chicago-based startup is a DIY home improvement brand on a mission to make it easy for anyone to tackle everyday home projects on their own!
Check out my blog post on the company to learn more about the toolsets, project kits, and membership support that's transforming the $100B home DIY market.

---
Read More Books in 2022
A few editions ago, I shared the first four books I read in 2022. Today, I'll share the latest three. And yes, I'm sticking to my formula of one business book for every two leisure books that I read.
The Psychopath Test: A Journey Through the Madness Industry (by Jon Ronson): In this real-life madcap journey, a bestselling journalist investigates psychopaths and the industry of doctors, scientists, and everyone else who studies them. I loved this book – and Ronson's writing style. This one was recommended by two of my friends, Ryan Gent AND Priya Amin.
Traction: How Any Startup Can Achieve Explosive Customer Growth (by Gabriel Weinberg and Justin Mares): Most startups don't fail because they can't build a product. Most startups fail because they can't get traction. Traction will teach you the nineteen channels you can use to build a customer base, and how to pick the right ones for your business. I highly recommend this book for any early-stage startup founder!
The Best of Me (by David Sedaris): A collection of David Sedaris's funniest and most memorable work. In these stories, Sedaris shops for rare taxidermy, hitchhikes with a lady quadriplegic, and spits a lozenge into a fellow traveler's lap. He drowns a mouse in a bucket, struggles to say "give it to me" in five languages, and hand-feeds a carnivorous bird.
I love David Sedaris and these essays really are the best of the best. And SO. DAMN. FUNNY. If you need a good laugh, grab this book.

Until next time,
✌️Lynsie
--
lynsiecampbell.com
betterwork.vc
thefund.vc
Buy my book, This Better Work, on Amazon!
Connect on LinkedIn & Twitter.
---
Subscribe to Chirps, my weekly newsletter about startup stuff, no-code tech, and all things marketing.
---
#blacklivesmatter #womxnrule #legalizeit #investinthemidwest