Discover more from Lynsie Campbell
I'm a 2x tech founder, pre-seed VC, & author of This Better Work. I publish two newsletters. Microdose Marketing: 1 minute reads on specific marketing topics & This Better Work: Startup advice, pre-seed investing insights, and weird personal stuff. Enjoy!
Deranged Robotic Goats, No-Code Meets AI, and a Studio Info Session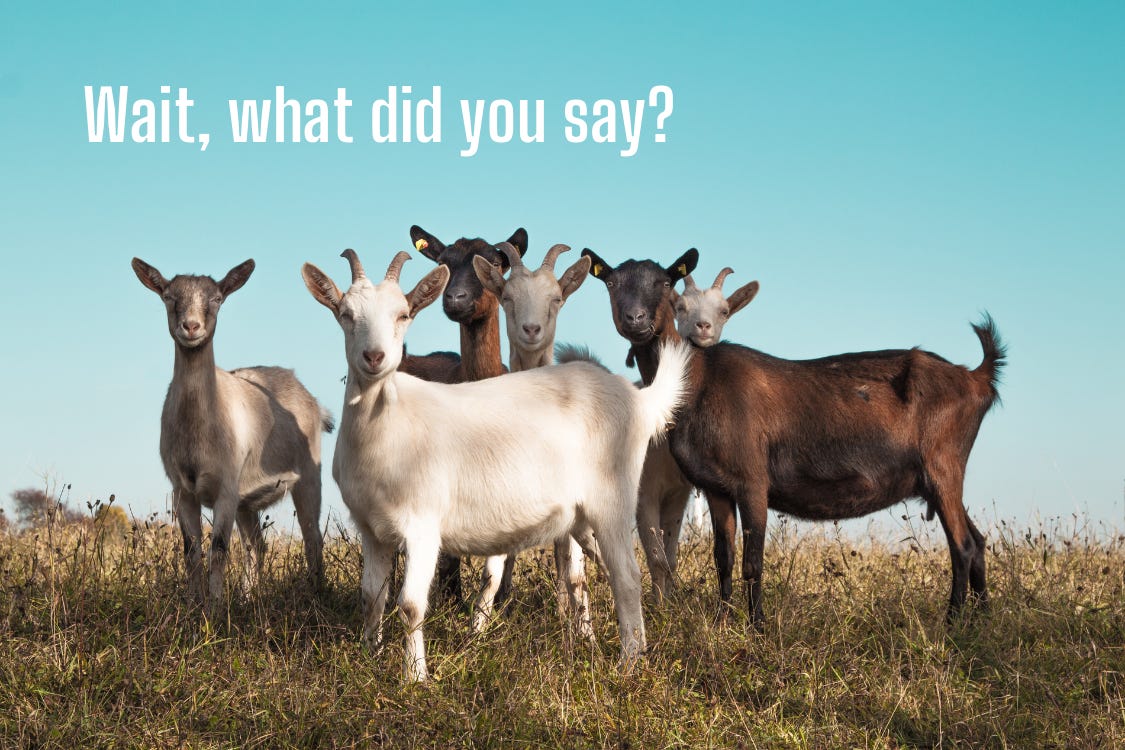 Wow. It was a rough week for me. I got hit with a wicked cold early in the week and it basically ruined everything.
So, I did something very unlike me. I took a break. I actually took a day off of work to rest and recover – and to track my cat via the Apple Airtag I put on his collar this week.
While it doesn't work exactly like I thought it was going to, it's still been fun to see where he's wandering. And I think I've determined that he isn't cheating on me with a second family – which is something that cats actually do! Sneaky little shits.
Here's the little thingamabob I used to attach it to his collar, in case you're wondering if your cat is cheating on you.
Happy friday, friends!
---
Better Work Ventures: Info Session
Since Nathaniel and I have started to solidify a lot of the details for the studio, we've decided it's time to host an info session!
Our first session will take place on Thursday, March 31st at noon. We'll answer some frequently asked questions, including:
What's a startup studio?

What types of companies will we be building?

How do we work with founders and startup builders?

What types of investments will we make in startups?

What's the best way to get in touch with us?
If you're a founder, startup builder (engineer, designer, marketer, etc), or investor who's interested in learning more about the studio – and potentially getting involved – join us for our first info session.
Register here! And pass it on, please. 😃 💌
---
If you're interested in hosting a webinar for your company at some point, here's a great article on the topic: 19 Best Practices for Webinars or Webcasts (Hubspot)
---
Meet Taylor Davidson Get a Financial Model
This week, we kicked off the GSSN Startup Studio Bootcamp with an amazing first session: The State of Startup Studios & Critical Design Choices.
The session was hosted by my new favorite person – Alper Celen from Enhance Ventures, a startup studio for the Middle East, North Africa, Pakistan, Turkey (MENAPT) region (based in Dubai).
One of our biggest questions going into this was, "How are we going to structure the studio aspect of this venture?" After sitting through this session, we settled on the Dual Entity Model. Problem is, I didn't model for this. So, back to the damn drawing board.
Lucky for me, I happen to know a guy who's REALLY GOOD at this. His name is Taylor Davidson and I met him when I was doing some recent research on AngelList's Rolling Funds.
Taylor helps entrepreneurs and investors build rock-solid financial models through Foresight.
He's built models for all types of startups, including Saas, eCommerce, Subscriptions, Marketplaces, Hardware, and more.
Thing is, he doesn't just have models for founders. He also has a set of models for investors as well!
A lot of the models that Taylor has built are free to use, but, if you're struggling or need some extra support, he's there to help.
And the best part ... wait for it ... he's in PITTSBURGH.
Thanks for all of your help so far, Taylor! Better Work Ventures appreciates it!
---
What the Tech!?!
I know, robotics is the future, blah, blah, blah. That said, I prefer to build things that solve real world problems right now.
Being in Pittsburgh, I'm surrounded by lots of robotics R&D. And, as is stated in this article, "We're more or less still at the point of robotics where engineers are throwing anything at the wall and hoping to find a design that sticks."
And I have to agree because it seems like the only explanation for why Kawasaki created a four-legged walking Ibex.
To each their own.

Now this is more my speed!
As someone who grew up squarely in the 90's, the Mike Tyson ear-biting incident was a definining moment in...something. I don't know what, but it was defining.
Anyway, the latest product from Mike Tyson's weed brand is amazing. The cannabis-infused chews are a nod to the infamous moment when Iron Mike bit Evander Holyfield's ear during a heavyweight match in 1997.
Each edible ear even has a tiny bite out of the top.
It's all in the details, people.

Independent LEGO retailer Citizen Brick recently raised $16,540 for relief efforts in Ukraine by producing and selling custom Volodymyr Zelensky figures and tiny molotov cocktails.
The minifigs sold out almost instantly.
Speaking of Ukraine...
---
Good Reads
The increase, which was reported in Morning Brew on Wednesday, is global, but is mostly coming from the U.S., the location of the majority of its users.
There has also been an 1,800 percent increase in users in Poland, "which we suspect is caused by people in Poland who are welcoming and hosting refugees," said founder, Luis von Anh.
Von Ahn also announced that Duolingo "will be donating all of the ad revenue from people studying Ukrainian on Duolingo to Ukraine relief." 👏👏👏

OMG finally. Please make this a reality.
This week, The Senate unanimously passed a measure that would make daylight saving time permanent across the U.S. If this sticks, It would make daylight saving time permanent in 2023.
Ever wonder how DST even came about? The answer to this appeared in the May 28, 2021 edition of Chirps. Here's the excerpt:
Matters of Time (99% Invisible): This episode is a set of time-centric mini-stories that challenge what you know (or think you know) about the way time works around the world. ⏱️ Learn about the history of China's single time zone (I had NO IDEA that China only uses one time zone!!!), ☀️ get the real scoop behind Daylight Saving Time, 🪟 and a meet a few Knocker Uppers. What's a Knocker Upper, you ask? You'll have to check out the episode to find out. It's a good one!
No-code has changed my life.
When I started ShowClix in 2007, I felt helpless. I couldn't build a website. I'd never designed – and couldn't design – my own landing pages. There was no chance I could connect a webform to a database.
Not anymore. Now, this is how I spend the majority of my time. AND I LOVE IT.
And now the latest: No-Code + AI
A growing number of new products allow anyone to apply artificial intelligence without having to write a line of computer code. Proponents believe this "no-code" movement will change the world.
And isn't that what we all want to do???
Until next time,
✌️Lynsie
--
lynsiecampbell.com
betterwork.vc
thefund.vc
Buy my book, This Better Work, on Amazon!
Connect on LinkedIn & Twitter.
---
Subscribe to Chirps, my weekly newsletter about startup stuff, no-code tech, and all things marketing.
---
#blacklivesmatter #womxnrule #legalizeit #investinthemidwest