Discover more from Lynsie Campbell
I'm a 2x tech founder, pre-seed VC, & author of This Better Work. I publish two newsletters. Microdose Marketing: 1 minute reads on specific marketing topics & This Better Work: Startup advice, pre-seed investing insights, and weird personal stuff. Enjoy!
Knocker Uppers, New Co-Founders, and an Epic Squirrel Obstacle Course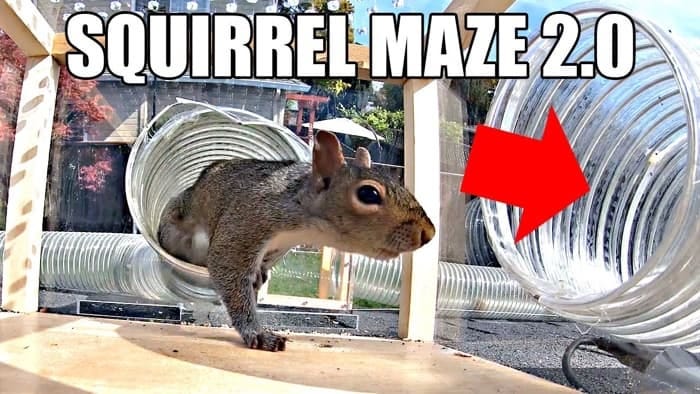 Let's kick this off with my favorite Pittsburgh news of 2021. We're getting electric bike share!!! 🚴💥💥💥💥💥
Healthy Ride (Erin Potts 👀), if there's anything I can do to help, let me know! And big thank you to Heinz Endowments for making this happen 🍑
---
The Ultimate Squirrel Obby
If you've been reading along over the last few months, you've likely picked up on my love for heist stories. Here's the latest and greatest (and maybe my favorite).
From Mark Rober, the same guy who brought us the Fart Spray Glitter Bomb, comes V2 of his epic backyard squirrel obstacle course.
The first six minutes of the video are an explanation of the build (which are amazing). If you're not into the engineering, the squirrel fun starts at 6:10. Enjoy!
---
Meet My Lanespotter Co-Founders!!!
Two of the other reasons I know that Lanespotter is going to work this time are the two people above. Meet Grant Gillman and Anna Lawn.
I met both of these hot dogs 🌭🌭 while doing contract work over the last two years – and I'm so glad I did. I'm beyond lucky to be working with these talented, passionate, driven, hilarious people.
Connect with them on LinkedIn (links ☝️) or email them and say hello!
grant@lanespotter.com  
anna@lanespotter.com
---
Stripe Atlas
In case nobody has told you this, you don't have to have an attorney to get your startup off the ground. Stripe can help you with it.
For $500, Stripe Atlas guides you through the essentials – creating a legal entity (LLC or C-Corp), getting your Tax ID number, and issuing stock to founders. Bonus: All of the paperwork only takes about 10 minutes. I know because we just did it!
Side Note: Stripe just closed a $600M round at a $95B valuation, making it the most valuable "startup" in America 💰
---
Good Media
Matters of Time (99% Invisible): This episode is a set of time-centric mini-stories that challenge what you know (or think you know) about the way time works around the world. ⏱️ Learn about the history of China's single time zone (I had NO IDEA that China only uses one time zone!!!), ☀️ get the real scoop behind Daylight Saving Time, 🪟 and a meet a few Knocker Uppers. What's a Knocker Upper, you ask?
From Wikipedia: A knocker-upper was a profession in Britain and Ireland that started during and lasted well into the Industrial Revolution, when alarm clocks were neither cheap nor reliable. A knocker-up's job was to rouse sleeping people so they could get to work on time.
Refounder by Patrick Colletti: My friend (and a Founding Member of The Fund Midwest) is a published author!!!
At the helm of a broken company (NetHealth) with no operating capital or viable product offering, Patrick Colletti set out to rebuild. Now, over two decades later, that broken company is a "billion-dollar company with a heart," helping reconnect caregivers to their calling.
Refounder is a fantastic read! Grab a copy on Amazon or order from your local bookstore ❤️
If it's not a Twitter Thread, it doesn't count. Here's a gem of a thread from Alex Garcia, Marketing Manager at The Hustle: 30 copywriting tips to convert readers into customers. My favorite:
Tip from Alex: Replace Weasel Words With Promises
Reason: Words like may, can, hope, could, leave doubt in a reader's mind. You want readers to feel confident in their decisions. Use words like will, can, and do.
---
Next Project: This Better Work, The Audiobook
Since I'm self-publishing my book, I figured why not cross another "thing I've done" off the list. I'm going to record my own Audiobook. Rob Dircks☝️ convinced me I can do this.
This could go really well, or horribly wrong. If you can help with this endeavor, hit me up! I'm looking at you, Mitch Turck 👀 😆
Until next time,
✌️Lynsie
---
#blacklivesmatter #womxnrule #legalizeit #investinthemidwest