Discover more from Lynsie Campbell
I'm a 2x tech founder, pre-seed VC, & author of This Better Work. I publish two newsletters. Microdose Marketing: 1 minute reads on specific marketing topics & This Better Work: Startup advice, pre-seed investing insights, and weird personal stuff. Enjoy!
45,232 Words, Seed Funding, and Manufactured Serendipity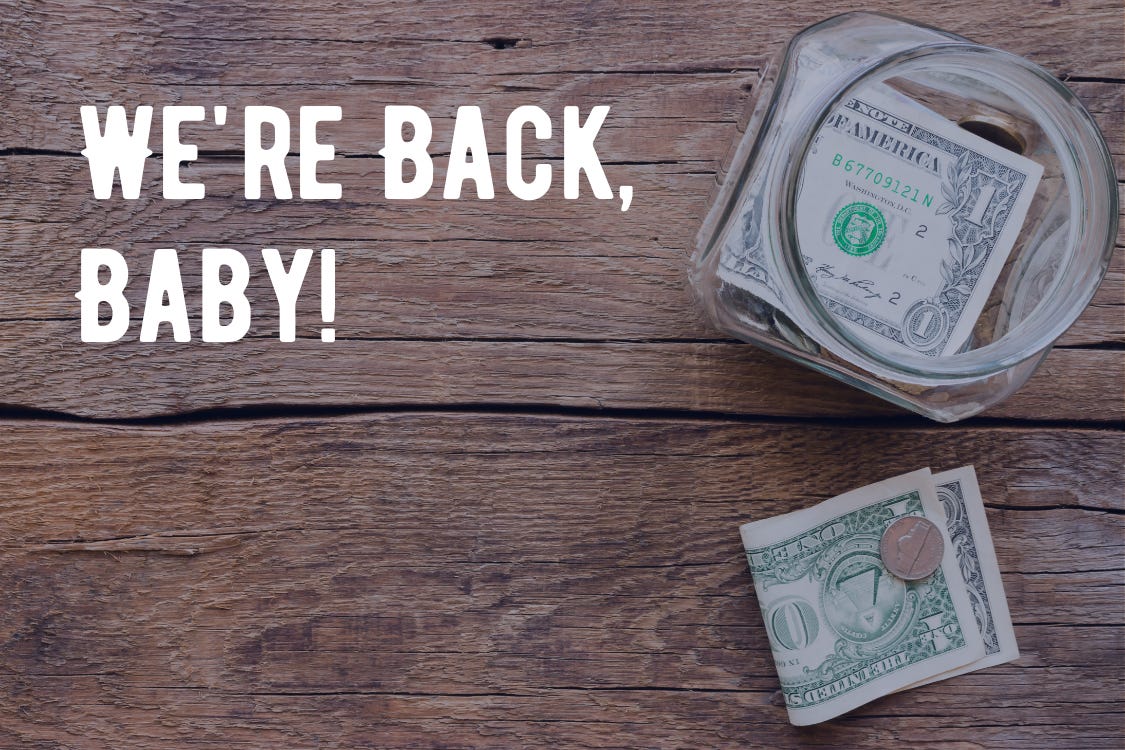 Warning: If we have an upcoming meeting scheduled, I'm showing up with pink hair. A strong violet toner left on a little too long caused this, but I gotta say, I kinda like it. Taking the "looking at life through rose-colored glasses" approach on this one. If you're wondering what it looks like, it's basically this:
#namethecartoon
Enjoy the weekend!
---
Lanespotter is Fundraising!
As of today, Lanespotter is officially raising a round of funding! 💥💥💥
Grant, Anna, and I have worked hard over the last six months to find a way to resurrect Lanespotter — and we finally have a path forward.
I want to thank the original investors who supported me - Brian Arnone, Brian Gross, Tony Lascola, Jim Jen (Innovation Works), and Ted Serbinski (Techstars). This hasn't been an easy journey, that's for sure.
Next up, we're raising a $500k seed round to get this thing spinning again. If you know anyone who might be interested in investing, we'd love and appreciate an introduction. In fact...
Check out the pitch deck, if you have a minute!
To celebrate an enormous step forward yesterday, Grant and I enjoyed this 1989 classic by Fugazi. 🤘Get rad, friends.
---
15x45 = Serendipity
My new friend, Sehr Thadani, invited me to one of the coolest Zoom events I've attended over the last year and a half. Sehr is a Partner at Silicon Foundry, a membership-based advisory platform that connects corporates, government, startups, influencers, academics, and investors.
They host a regular event called 15x45. The event brings together 15 "insanely interesting people" who could benefit from knowing one another or collaborate in different ways.
The guests were a total surprise! I met some absolutely amazing people and it was so much fun! And of course, there was one CMU grad on the call 😆
I felt honored to have been included and am feeling extra inspired after having attended. Thanks for the invite, Silicon Foundry.
🥂 Cheers to serendipity!
---
45,232 Words: My Manuscript is Locked
This is a big step in the process. The manuscript is locked, which means, no more changes.
I'm super excited for the next, and final, steps:
🔬 Professional proofread
📖 Interior layout design
📔 Cover selection
🚀 Launch
I have at least eight weeks until launch. I was hoping the last phase would be faster, so now I have to attempt to display patience. I'll keep yinz posted!
---
Good Media
Mare of Easttown (HBO Max): As her life crumbles around her, a small-town Pennsylvania detective Mare Sheehan (Kate Winslet) investigates a local murder.
Wow, Kate Winslet and the entire cast of this show are amazing. I couldn't stop watching it once I started. So so so good, intense, and not easy to watch at times.
My Octopus Teacher (Netflix): A filmmaker forges an unusual friendship with an octopus living in a South African kelp forest, learning as the animal shares the mysteries of her world.
This has been on my list forever, so I downloaded it onto the iPad for last weekend's camping trip to Tygart Lake. Dylan and I watched the entire thing - twice. It's a beautiful and captivating look at a fascinating creature.
Roadrunner: The official trailer for the upcoming documentary about Anthony Bourdain has been released. I can't wait to watch this. One of my favorite episodes of Parts Unknown was the last episode of the second season: Detroit (on HBO Max).
---
Inspiring Design
Here are a few of the most creative endeavors I stumbled upon in my Internet adventures this week 🏄
Until next time,
✌️Lynsie
---
#blacklivesmatter #womxnrule #legalizeit #investinthemidwest