Discover more from Lynsie Campbell
I'm a 2x tech founder, pre-seed VC, & author of This Better Work. I publish two newsletters. Microdose Marketing: 1 minute reads on specific marketing topics & This Better Work: Startup advice, pre-seed investing insights, and weird personal stuff. Enjoy!
Dorito Dust, Webflow Galore, and a Love Letter to Startup T-Shirts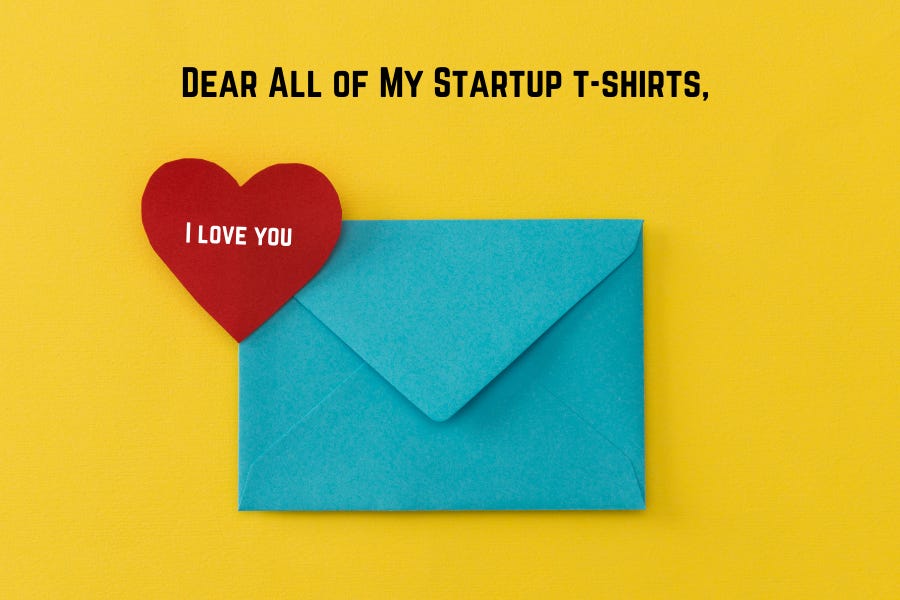 I have word limits on this thing. I swear I do. It's usually 850. I'm 200 words over as I type this. That's a lot. And one of the articles links to another article.
So, I'm apologizing in advance for diving deep into a few categories this week, but that's what happened to me, so that's what happens here. As my kid says, "Mama's working on a project. She woke up covered in Dorito dust."
On top of being hyper-focused on a thing, I was feeling memory-laney.
Happy Friday, you fine fine weirdos.
I know it because you're here 😉
---
Book Cover Design = New Website
Once the book cover was locked, it was time to build a website to accompany the launch. While Ghost is a fantastic blogging platform, it's not customizable enough (for me) to build out the type of website I want. After weighing the options, I decided to use Webflow.
It's a live work-in-progress, but you can see where I'm going with it. Check it out👇
So, why Webflow? For me, it was a couple of things:
More flexibility than Squarespace, which is AWESOME and what I would've used historically. Over the years though, I've gotten much better at understanding and writing basic CSS and HTML so now I like having the extra control.

It's the platform of choice for A LOT of startups. If I'm going to work with founders and teams that are using Webflow, I want to know Webflow. Here's a list of 26 YC startups that use Webflow (you're welcome, Chris).

And finally, it offers a solid e-commerce solution (see below).
I've had a lot of fun building the site this week – and I'm getting close to calling this version done. Just a few more things to do, including hooking up contact forms, adding custom sorting and filtering, etc.
---
Webflow E-Commerce
Part of the website build included a little mess around in Webflow Ecommerce. They made it easy to go down the rabbit hole, so I did.
So much so, that I wrote about it here.
The article provides an overview on:
The History of Self-Publishing

Why not just sell through Amazon?

Picking the Platform

Lots of Resources

Great Setup Guide

Managing Merch

Two Big Cons I've Found So Far
---
Meet Commonwealth Press (and read a love letter to my startup t-shirts)
Since I'm going to sell the book on my website, I figured I may as well have some fun with the store. That meant an immediate email to my friends at Commonwealth Press. If you don't know Commonwealth Press:
WE ARE A SMALL GROUP OF HARDWORKING, UNION PROUD, FIERCELY INDEPENDENT, PROBLEM SOLVING, INK SOAKED, THING MAKING, MUSIC ADDICTED, DESIGN LOVING, PITTSBURGH EMBRACING, SCREENPRINTERS
You can probably understand why we get along.
The first time I ordered shirts from Commonwealth Press, I was the Marketing Director at Spreadshirt. Here's a picture of me and Lindsay Patross (supplied by Mike Woycheck) talking shop with some PodCamp nerds in 2006(?) Spreadshirt sponsored the event and paid for the shirts.
A few years later, the Commonwealth Press crew showed up BIG when they designed and printed my all-time favorite, most superior ShowClix t-shirt. I know that Jeff Morgan agrees, as you can see below (and because he provided the art direction). These were printed in 2010-ish. The pic of me below was taken on May 19, 2021. What can I say? It's still a fave 🤷‍♀️
In 2014, Commonwealth Press printed the shirts for my dog walking company in San Francisco, Dogs Abide. I picked them up in person when I was home for a visit, just so I could see their (at-the-time) new space on the South Side.
And as I've mentioned before, one of my all-time favorite t-shirts is the LaneSpotter "squirrel on a bike in fanny pack" design from Christina Lee. People still ask me about it all the time. I'm considering doing a run for the new online shop. Thoughts? Andy Ellis, will you buy?
Commonwealth Press also printed all of the LaneSpotter logo gear that I sent to my dev team in Ukraine! 👋
When I moved back from San Francisco in 2015, I finally had a chance to sit down, have lunch, and chat with Owner Dan Rugh. Great guy.
He left his sunglasses on the table at Ineffable Cà Phê that day. I kept them and had all intentions of returning them. That did not happen. I'm sorry, Dan. I hope you've forgiven me 🫒
Long story not short, I'm definitely ordering a bunch of new merch from them to sell as part of my book launch!!! 🎉
---
And here's the latest news on Commonwealth Press 👏
For the first time, the Steelers and local partner Commonwealth Press will release special commemorative game day posters – nine in all, one for each home game - during the 2021 season.
"We're excited to announce the addition of the Gameday Poster Series for the 2021 regular season," said Steelers V.P. of Sales & Marketing, Ryan Huzjak. "We're borrowing a common practice from the music industry and the popular tradition of concert posters. Each Gameday Poster will uniquely commemorate every home game through the eyes of a local artist. We think these posters will be a great addition to Steelers fan caves everywhere."
It's a take on concert posters and I think it's rad.
---
Since I brought up PodCamp...
I know what book I want to write next. I even have the title already. This time around though, to make it a reality, I'm going to have to interview a bunch of amazing people. Solicitations coming.
Interviewing people translates really well into a podcast. Just sayin. If anyone has any experience here, I'd love to talk.
I'm gonna write up a memo. I'll get it over to yinz in a week.
Until next time,
✌️Lynsie
---
#blacklivesmatter #womxnrule #legalizeit #investinthemidwest