Discover more from Lynsie Campbell
I'm a 2x tech founder, pre-seed VC, & author of This Better Work. I publish two newsletters. Microdose Marketing: 1 minute reads on specific marketing topics & This Better Work: Startup advice, pre-seed investing insights, and weird personal stuff. Enjoy!
Almost Nude Cycling, Digital Resumes, and Battle Cats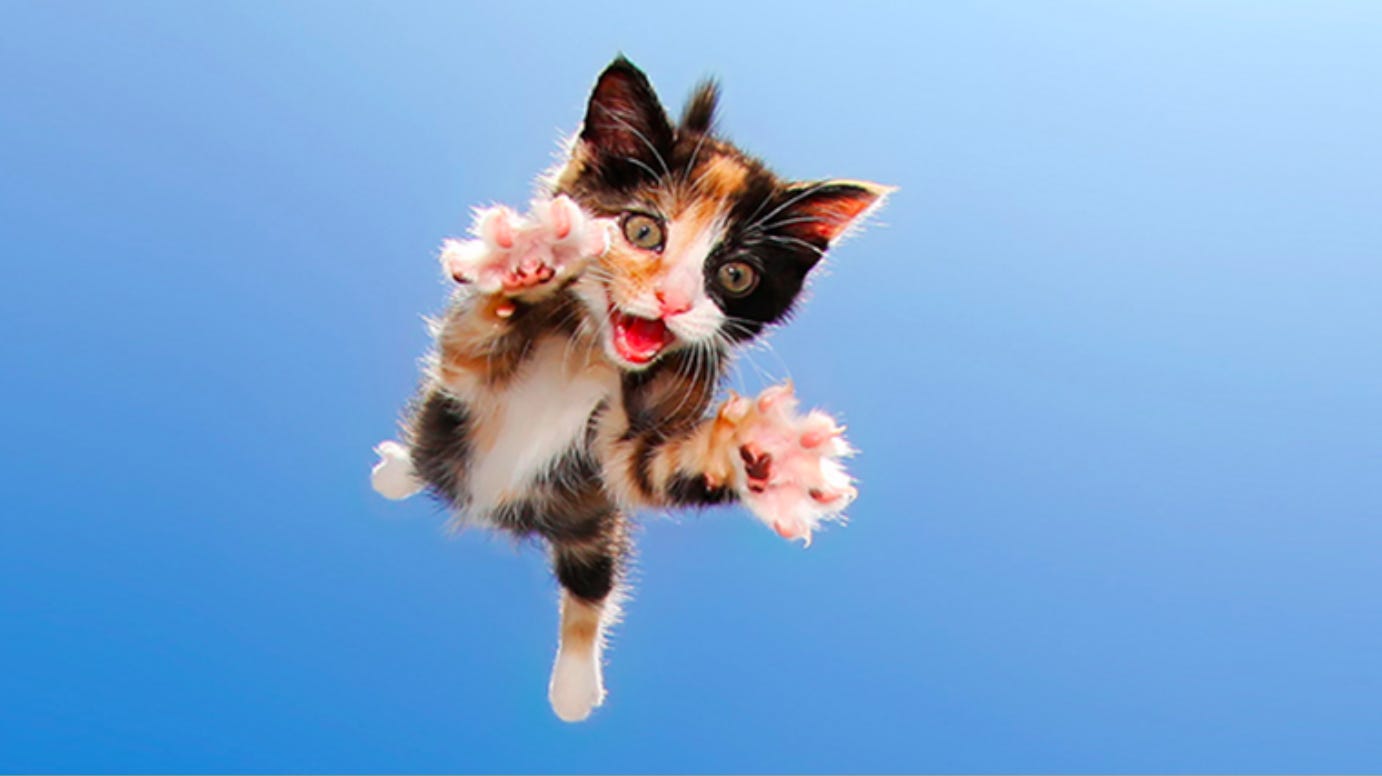 Happy Friday, friends!
Whew, it feels good to be on the other side of last week. Making big decisions is hard (and emotionally draining), so I took a break and did some fun shit with my friends and the kid.
I gotta say, it felt good to relax.
Before we get started, real quick, Happy Birthday, Mom (a day early)!
Now, let's move on to...
---
Some Random Pittsburgh Shit
The Pittsburgh Underwear Bike Ride
I've surprisingly never participated in this long-standing Pittsburgh cycling tradition – until last night! On the last Thursday of the month (May through October), a few hundred people show up at the corner of 46th and Butler at 8pm and ride around in their gutchies together. So. Much. Fun!!! Glad I finally crossed this off of my to-do list.

Pittsburgh's best places for vegan and vegetarian food (updated)
The city has come a long way since I went vegetarian a decade ago. Next Pittsburgh's list includes three of my absolute favorite spots (and sadly, one that I still haven't visited):
Udipi Cafe (Monroeville): South Indian vegetarian cuisine. Best Indian in the Burgh, hands down.

B52 (Lawrenceville): Fully vegan, Mediterranean-American restaurant & espresso bar.

Apteka (Garfield): Central & Eastern European vegan restaurant +bar + natural wine bottle shop. YEP, POLISH VEGAN!!!
Fun Facts About Apteka
Fun Fact #1: Christina Lee (the amazing designer who did the artwork for my book) designed their logo. It depicts a sweaty man eating a pierogi, one of Apteka's primary (and most delicious) menu items.
Fun Fact #2: Apteka has always seated first-come, first-serve, but the pandemic forced them to make a change. Cameron Scott to the rescue! Cam is one of my bike-loving, software engineer friends and he whipped up a new reservation system for them – while on vacation. Now that's dedication. Thank you, Cam!
I legit have the coolest friends. If you haven't visited Pittsburgh yet, please do. I'd love to show you around 🗺️  and introduce you to some of these fine people.
---
How To Stand Out on Paper - Go Digital!
I've done a lot of hiring, which means I've looked at a lot of resumes. I figured I'd use my recent resume build as an opportunity to share some tips on how to stand out on "paper."
If you click that link above, check out my sweet new blog URL  🎉
---
Good Media
Murderbot: All Systems Red
All Systems Red is the first book in six-book series by Martha Wells called The Murderbot Diaries. The main character is a deadly security droid that has hacked its restrictive programming and is now torn between self-discovery and an instinct to kill all humans. I'm halfway through it and absolutely love it!
"As a heartless killing machine, I was a complete failure.
I picked up Murderbot after reading NPR's recently published:
The Battle Cats
My kid finds the weirdest stuff on YouTube. The latest obsession in our house: Battle Cats, a free tower defense game where the player selects a team of cats with different amounts of stats to kill enemies in order to protect the base.
I get why the kid likes this so much. The characters are cool, the lasers are rad, and there is some actual strategic thinking involved! BTW - I'm stuck on Dubai. And no, I don't want to talk about it 😤
In the Heat of the Moment: How Intense Emotions Transform Us (Hidden Brain)
Damn, this old episode of Hidden Brain aired right when I needed to hear it.
In a fit of anger or in the grip of fear, many of us make decisions that we never would have anticipated. In this episode, we look at situations that make us strangers to ourselves — and why it's so difficult to remember what these "hot states" feel like once the moment is over.
Bonus: The professor at the center of the episode, George Loewenstein, teaches psychology and economics at Carnegie Mellon University. He gives shout-outs to Greenfield, Pittsburgh's steep city streets, and the many sets of stairs that dot them.
---
This Better Work: An Update
Interior Layout
The last step. Taking my words and making them look good (and easy for you to read). Above are a few of the pages my publisher shared in advance of my final review. After that, it's off to print!!!
Website Complete (Minus the Online Store)
I finally had a few minutes to put the finishing touches on my new website.
The copy is complete and the forms have been hooked up and are functional.
That last part was not an easy task. It should've been, but I was trying to get fancy with it, which meant I spent an inordinate amount of time working on something to no avail. I may dive in on this in an upcoming article...
Anyway, the web forms reminded me that I needed to a build new Thank You page.
If you want a reminder on best practices for this, I wrote about it earlier this year.
I ❤️ writing this every week. Thanks for reading.
Until next time,
✌️Lynsie
---
Subscribe to Chirps, my weekly newsletter about startup stuff, no-code tech, and all things marketing.
---
#blacklivesmatter #womxnrule #legalizeit #investinthemidwest