Discover more from Lynsie Campbell
I'm a 2x tech founder, pre-seed VC, & author of This Better Work. I publish two newsletters. Microdose Marketing: 1 minute reads on specific marketing topics & This Better Work: Startup advice, pre-seed investing insights, and weird personal stuff. Enjoy!
Party Details, Fat Bears, and a Midwestern Man of Mystery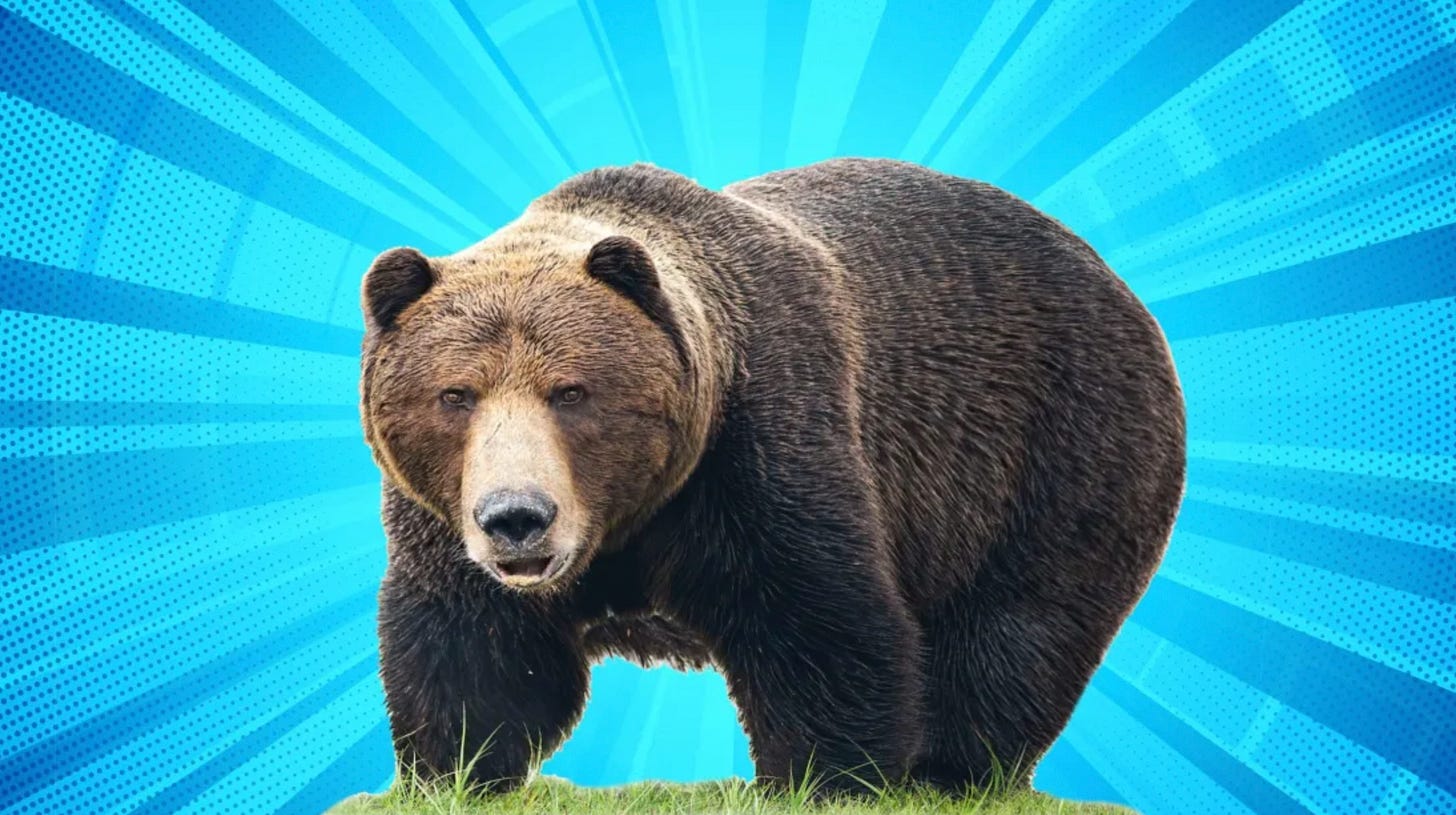 It's been a busy busy week. I'm ready to hibernate for a few days.
And of course, I blame Ted.
Happy Friday, friends!
---
Party People, Make Some Noise!
The release date for my book (Oct. 12) is now less than four weeks out. This is insane and hard to believe. However, this also means that: It's time to talk party.
And since I love a dramatic story arc, I've thrown in a betrayal twist...
​The event page for the launch party is being hosted on Ticketleap 😆​
​​If you're in Pittsburgh, join me for a bubbly happy hour to celebrate the release of my book!
I'll be setting up shop at Margaux on Tuesday, Oct. 12, from 4 - 7 pm to hang out with friends, tell stories, and clink glasses.
Reserve a copy of the Party People Edition today, and champagne is on me. Otherwise, you're on your own. #brokefounder
If you think you may swing by, please RSVP so I can give Margaux a solid estimate.
Hope to see you there!
---
Ted Visits Pittsburgh
It dawned on me as I wrote the headline above; I casually reference some dude named "Ted" here A LOT – and some of you may not know who this Midwestern Man of Mystery is!
Well, he's the guy on the left. The guy on the right is Chris "Sidecar" Millard.
I met Ted Serbinski in 2018 when I went through the Techstars Mobility program in Detroit. He was my Managing Director. He's smart, funny, and super Polish, so we became fast friends and have been getting into trouble together ever since. Most recently, as General Partners of The Fund Midwest.
The following is a link explosion
💥💥💥
Over the last two days, an awesome crew of investors, founders and community builders welcomed Ted to Pittsburgh, including Sean Sebastian (Birchmere / Black Tech Nation Ventures), Cassie Guerin (Miror), Nathaniel Minto (New Ambit), Reed McManigle (CMU), Nadyli Nunez (Ascender), Allison Braund-Harris & Roger Harris (Hardly), Michael Sanders (Opus One), Allison Howard (Nollapelli), Emily Siegel (Trek Gum), Ryan Gent (Pittsburgh Technology Council), Aaron Morris (Allvision IO), Don Mahaney (Scratch & C0), and the founders of Module, Brian Gaudio and Drew Brisley. Those last two guys are so rad that they built these houses! 👇👇👇
Wait, who the hell is that other girl??? (you're probably asking).
That's Katie Burton! Katie just joined The Fund Midwest as our Venture Associate. Connect on LinkedIn and say hello!
One last thing on this topic. It's a quick side note. If you see Sean Sebastian, ask him to tell you the bear story. Breadcrumbs dropped. You're welcome.
---
Speaking of bears...
This Week's Weird Wild World of Animals
I'm legitimately happier knowing that Fat Bear Week is a thing that exists. And it exists because people became obsessed with watching bears get fat on a livestream from Katmai National Park.
You can't make this stuff up. People are so weird and I love it. #bearcam

In her new book, Fuzz: When Nature Breaks the Law, Mary Roach writes about a variety of animal misbehaviors. Or as she likes to call them, animal "crimes." Interview highlights include:
Her research on the illegal trade of dried tiger penises led to her new book.

Examining the scene when a wild animal attacks a human.

Elephants like to get drunk.

Oh, the resourcefulness!
When wildlife researchers found this kea (a species of parrot found only in New Zealand) as a baby, he was missing his upper beak. This is a severe disability, as kea use their dramatically long and curved upper beaks for preening their feathers to get rid of parasites and to remove dirt and grime.
To survive, Bruce developed his own prosthetic beak. The video is awesome. 🦜
---
Marketing (to Gen Z)
This is an area where I don't have a lot of experience. ✍️ Note to self: change this.
The first article sent me down a rabbit hole. The other two were the most interesting I found while digging myself out. If you have a resource on this topic that you like, please share!
After months of testing, TikTok has released its new Promote feature. Promote lets users promote their organic videos to new audiences, expanding their reach. Social Media Examiner's article is a great overview.

Who is Gen Z? Young, tech savvy, and socially-minded, Gen Z is the most racially and ethnically diverse generation ever with a spending power of over $140 billion.
My favorite tip shared: Be Transparent & Accountable.

Who do members of Gen Z want to work for most in the future? Themselves. For a whole bunch of reasons.
---
Some Real-Life Sci-Fi Shit
And finally, I'll leave you with this.
This parkour showcase of the agile humanoids is both wondrous and unsettling.

Until next time,
✌️Lynsie
---
Subscribe to Chirps, my weekly newsletter about startup stuff, no-code tech, and all things marketing.
---
#blacklivesmatter #womxnrule #legalizeit #investinthemidwest
---