Discover more from Lynsie Campbell
I'm a 2x tech founder, pre-seed VC, & author of This Better Work. I publish two newsletters. Microdose Marketing: 1 minute reads on specific marketing topics & This Better Work: Startup advice, pre-seed investing insights, and weird personal stuff. Enjoy!
Kanban Ducks, Keyword Research, & a Seed-Stage PGH Hot Take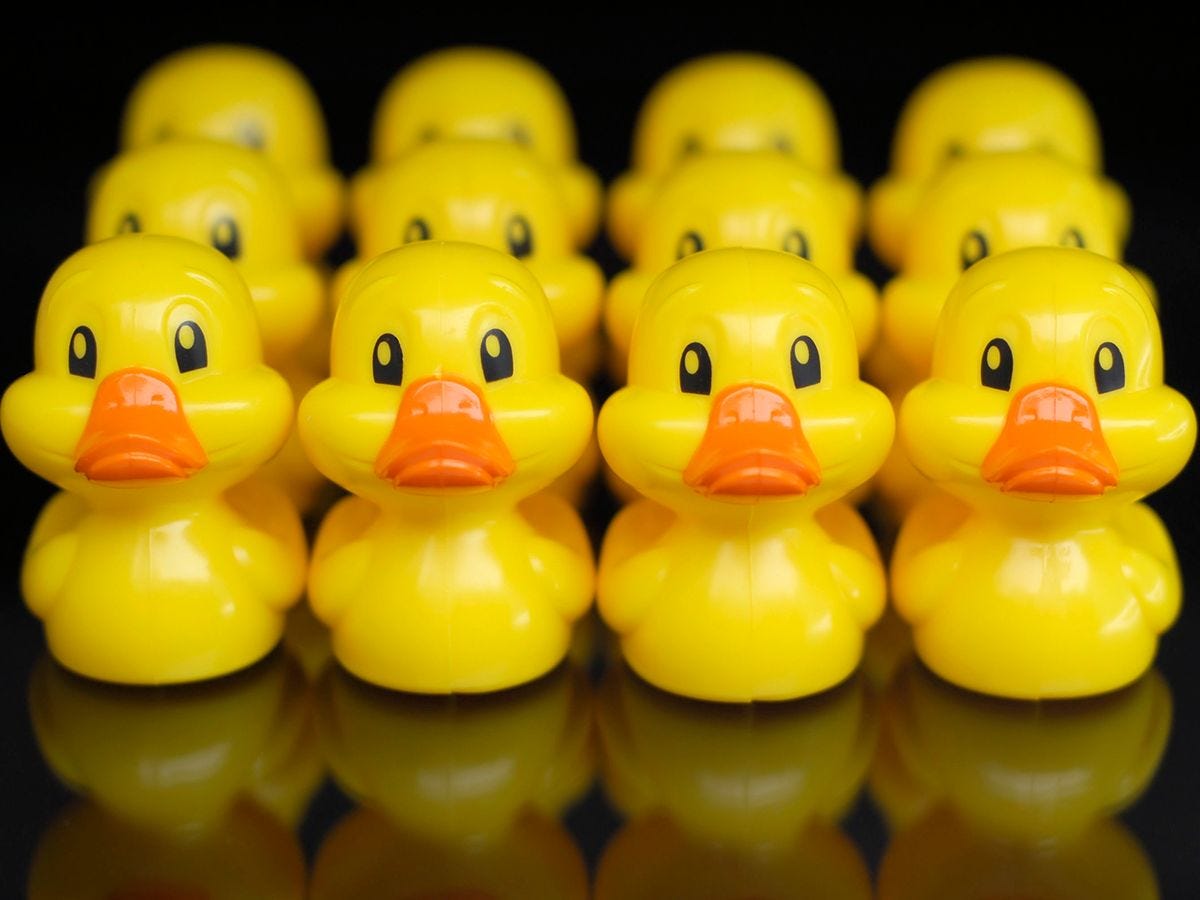 Let's start off this edition with some local news. Mostly because I've been holding in a hot take since a startup report dropped on Wednesday.
Happy First Fall Friday, Friends!
🙋‍♀️Who wants to build a 🔥🔥🔥 this weekend?
---
Pittsburgh Hot Take
Startup Genome just released their annual The Global Startup Ecosystem Report, the world's most comprehensive and widely-read research on startups, with 280 innovation ecosystems and 3 million+ companies analyzed.
Pittsburgh landed in the Top 25 (Detroit is #16) on the Top 100 Emerging Ecosystem Rankings list.
Sounds great, right? Ish.
While I'm super excited that Pittsburgh made the list, let's all chill out for a second. I'd like to point something out (that my associate Katie Burton pointed out to me after her first read):
Our median seed round is $75,000. THIS IS PATHETIC.
Other cities on the list look like this:
Chicago: $550,000

Philadelphia: $550,000

Miami: $675,000

Austin: $640,000
The global average: $480,000
We still have lots of work to do.
---
While we're talking Pittsburgh...
Quick Congrats 🎉
Jim Gibbs, a mighty fine individual, just received $100,000 – and eternal bragging rights. Why? Because Google named him, and his Pittsburgh-based mobile parking app Meter Feeder, to the latest cohort of their Black Founders Fund.
🤘 Fuck yeah. Congrats, Jim!

---
How To Organize Ducks
How do you do it all???
I get this question a lot. To be clear, what I'm showing you here is the best of the best. And it's also mostly professional. I have my shit together professionally (not so much personally).
That said, how do I get all of my ducks in a row? I figured out how to organize my tasks in a way that works for me.
I do it in Notion using a database. My default view is Board View – aka Kanban, a framework used to implement agile development. It looks like this👇
This layout works for me. You know what else works for me about managing my tasks in a Notion database?
I can save custom views and switch them up instantly.
💥 BOOM 💥 Table View by Priority!
If you want to learn more about managing your tasks in a database, check out this article from Notion: When to use each type of database view.
A few other tools for task management that my friends enjoy are:
---
Keyword Research (Psst, It's Important)
On the top of my Notion to-do list this week: A crash course on Amazon KDP advertising (so I can create ad campaigns for my book).
When embarking on a new marketing adventure, I always start at the same place.
Keyword Research. The process of finding and analyzing search terms that people enter into search engines with the goal of using that data for a specific purpose, often for search engine optimization (SEO) or general marketing.
You can't drive traffic and make sales without understanding keywords. If you don't know how to build a good keyword list, learn how to do it. Here's The Beginner's Guide to SEO from Moz.
Since I don't know anything about Amazon advertising, I turned to YouTube for help (obviously). These are the two best resources I found on the topic.
Paul Marles' video My Successful KDP Keyword Research Method for Amazon Book Publishing provides a great overview on how to select keywords to drive the right traffic to an Amazon page.

When I needed to whittle my list down to the most important set, Kindlepreneur's article and video: 7 Kindle Keywords: Use All 50 Characters or Not?

Side note: Getting to this point in my to-do list means that my Amazon book page is almost ready!!! #progress
---
Someone Hired Me!
I'm not quite ready to disclose the details yet, but I'll give you a hint...
Thank you to everyone who supported me through this year of transition.
I feel more like myself coming out the other side than I have in a long time.
---
Last Call: Party People Edition
The special run is almost fully reserved. If you want to grab the absolutely made-up Party People Edition of my book, this is your last chance.
Update on the edition: Since I'm extra, I designed and purchased this amazing rubber stamp. Party People Edition books will be stamped and include a special, heartfelt message from someone I hire to write them. Kidding! From me!
Party People Edition books can be picked up on release day. At my launch party! You're all invited.

Until next time,
✌️Lynsie
---
Subscribe to Chirps, my weekly newsletter about startup stuff, no-code tech, and all things marketing.
---
#blacklivesmatter #womxnrule #legalizeit #investinthemidwest
---