Discover more from Lynsie Campbell
I'm a 2x tech founder, pre-seed VC, & author of This Better Work. I publish two newsletters. Microdose Marketing: 1 minute reads on specific marketing topics & This Better Work: Startup advice, pre-seed investing insights, and weird personal stuff. Enjoy!
Czardom Week One, True Crime, and a Book Unboxing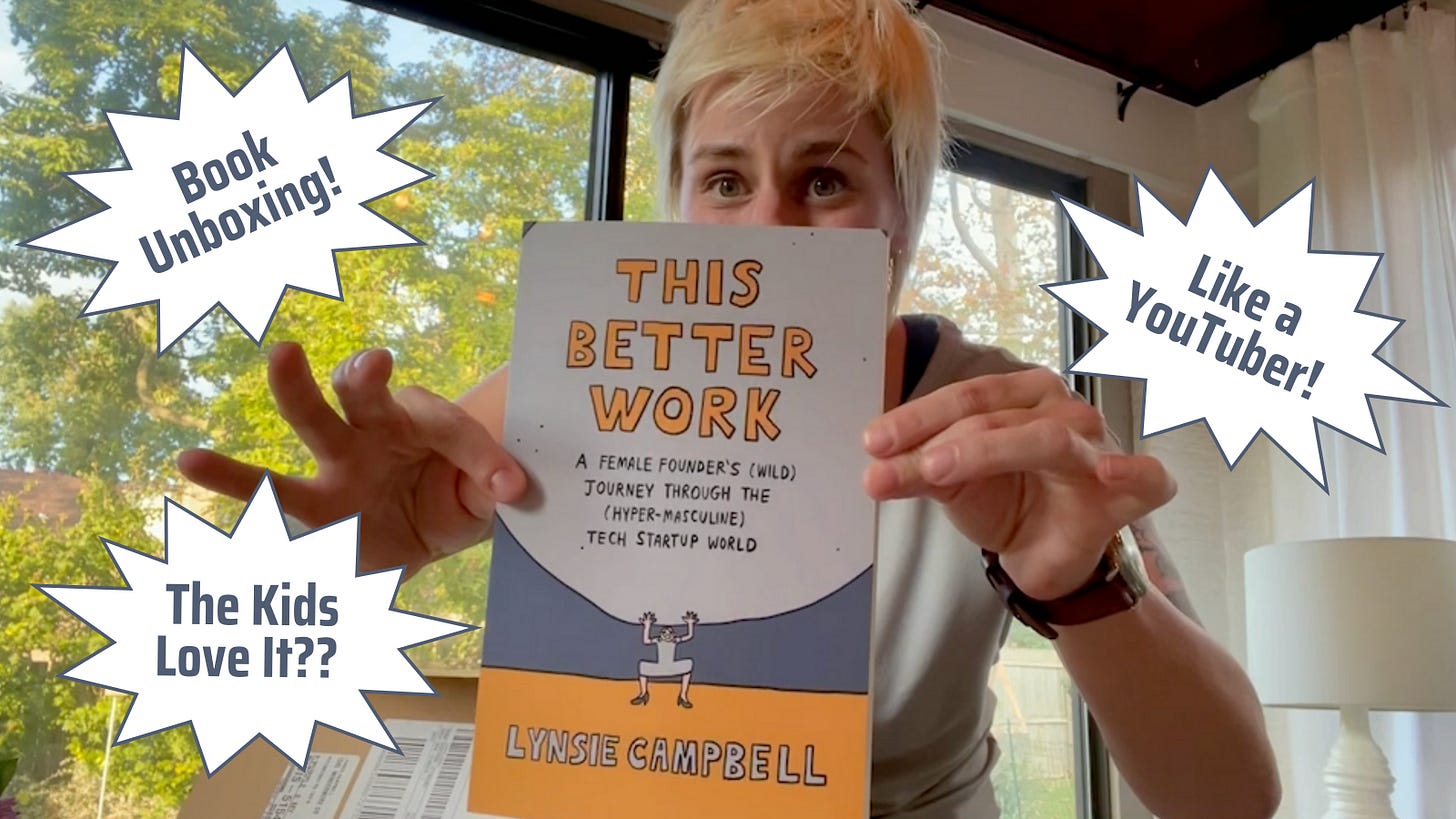 Hello Friends!
Kicking us off with a song. I know the title isn't "seasonally relevant," but I still feel the need to share today. Mainly because it's been stuck in my head for two weeks now AND because it makes me feel super happy – and that's the vibe I'm going for currently. It's another dancey one (of course). Enjoy!
And as always, Happy Friday!
---
T-Minus FOUR Days to Book Launch 📘🚀
Holy shit. I'm four days out from being a published author. Look, mom and dad; I have my very own ISBN!
978-1-5445-2442-9
A few reminders:
The release date for This Better Work is Tuesday, Oct. 12. I'll be sending an additional email to yinz that morning to force you to go to Amazon and buy a copy. I'll be running a launch week special just for you!

LAUNCH PARTY! I'll be setting up shop at Margaux in East Liberty from 4 pm - 7 pm to celebrate the book release. If you're interested in stopping by, RSVP HERE so I can give Margaux an estimated headcount.

BOOK UNBOXING! I recorded myself opening my first box of books. How could I not? It's a big moment!
---
Good Media
I was hesitant on this one. I've never been much of a Martin Short or Steve Martin fan (I know, I know). That said, the two of them (and this show) are spectacular! Throw in Selena Gomez, and it's a solid trifecta.
Only Murders in the Building follows three strangers who share an obsession with a true crime podcast – and then suddenly find themselves wrapped up in one.
I'm seven episodes deep and running at the end fast and hard. #MaxV

This one goes out to all of my fellow lovers of language. This episode of 99pi gets to the heart of why the English language is so fucked up. Hint: It's tied to the introduction of the printing press to England in the 15th century.
Wow, I sound so nerdy right now, but I swear, this is entertaining!
---
First Week of Czardom
I've officially completed my first days reigning as Startup Czar at Pittsburgh Regional Alliance. While I'm super excited about the new role and the rad group of people with whom I'll be working, I'm equally as excited about the bike room at 11 Stanwix. It's a beauty!
If you're interested in connecting to talk about how we may be able to work together, drop me an email at my fancy new email address: lcampbell@pittsburghregion.org.
---
Tech Stuff
I can't stress this enough. You have to prioritize yourself if you're going to do this right. If you're not happy and healthy, nobody and nothing around you will be healthy – including your business. My favorite tip:
Find investors who are aligned with your definition of success
And yes, mental health (and my struggle) is a topic of conversation in my book.

Would I like to write about anything else in tech except Facebook? I would. Can I write about anything else in tech but Facebook? I cannot.
The outage was a big deal. In the article, Swisher talks to Alex Stamos, the director of the Stanford Internet Observatory and a former head of security at Facebook – and asks him four questions, including: Can Facebook continue as it is?

Ooooooh, I love me some Courtney Barnett! My fave Australian singer/songwriter just released a free, web-based stem mixer that lets you chop up three singles from her upcoming album, Things Take Time, Take Time.
---
Pittsburgh Headlines
Since I'll be so heavily engrained in the Pittsburgh tech ecosystem moving forward (even more so than before), I'm adding a Pittsburgh-focused section to the newsletter. Here are a few of the highlights from the week.
A former steel plant in McKeesport is going to pot. And lots of people are ecstatic about it.

the company is opening an advanced R&D center for its fully owned startup Azena, which is developing an open platform for smart cameras and an application store with nearly 100 artificial intelligence video analytics apps.

Big congrats to my pal Andy Chan on the acquisition of his startup!
Sorry bud, I couldn't help but use the .gif I have from a trivia night out. Side note: We should do this again!
Until next time,
✌️Lynsie
---
Subscribe to Chirps, my weekly newsletter about startup stuff, no-code tech, and all things marketing.
---
#blacklivesmatter #womxnrule #legalizeit #investinthemidwest