Discover more from Lynsie Campbell
I'm a 2x tech founder, pre-seed VC, & author of This Better Work. I publish two newsletters. Microdose Marketing: 1 minute reads on specific marketing topics & This Better Work: Startup advice, pre-seed investing insights, and weird personal stuff. Enjoy!
A Second Book, Some Otter Notes, and a ShowClix Reunion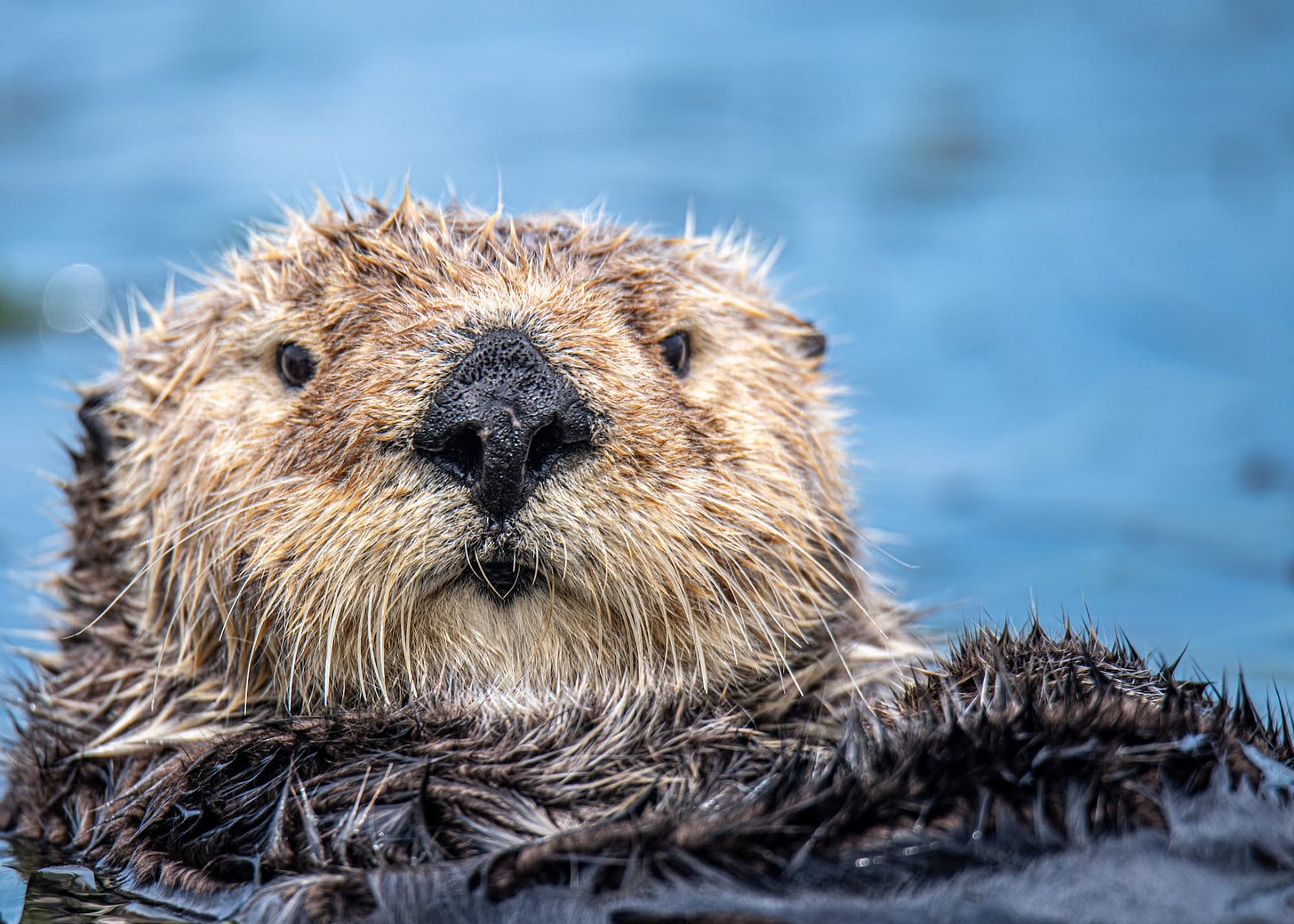 Hello friends!
It was another solid week that was broken in half by a mini ShowClix reunion that was so so so fun! I hadn't seen some of these faces in over three years (which is unacceptable). I'm so proud of the crew of weirdos we amassed at ShowClix over the years. They're some of the smartest, funniest, most creative people I've ever met.
Not pictured: One of my besties, Nathaniel Minto. Why? He had a baby on Wednesday!!!  
Not sure I'll be able to top that this weekend.
Happy Friday!
---
The Second Book
Come on. We all knew I was just getting my feet wet with the first book 😆
In all seriousness, the idea for my second book came to me during the process of writing the first. I kept thinking to myself, "I know I'm not the only one who has struggled to find the right path forward AFTER my startup." The working title:
Post Founder Purgatory: What do you do when your startup no longer exists?
The first step in getting this one rolling is a series of interviews. I'm looking to talk to 100+ founders around the country to learn about what they did after exiting their startup. And I want to talk to people who have experienced all outcomes: IPO, merger, acquisition, acqui-hire, shutdown, etc.
I WANT TO HEAR IT ALL.
If you know a founder who has a story to tell, send them my way! Actually, send them to this webpage.
Thank you in advance. And so it begins again. #writer
---
Tech I'm Testing
When conducting interviews, I want to be fully focused on the conversation (aka not distracted by taking good notes), which spawned a search for transcription tech that I could use during the research phase of the book writing.
I landed with Zoom + Otter
We're all familiar with Zoom at this point. Otter is what's new to me here. Otter.ai records your voice conversations and instantly transcribes them into searchable, rich text notes.
If we're scheduled for a Zoom call soon, you may be a test subject. You've been warned.

And if you're interested in learning more about how to conduct great interviews, check out: Want To Know How To Ask Questions? Longtime Journalist Shows How It's Done (WBUR)
---
Good Media
Michael Keaton is featured in (and is executive producer of) this Hulu series that examines how one company – Purdue Pharma – triggered the worst drug epidemic in American history.
I grew up in Oakmont, a small town about 12 miles outside of Pittsburgh. I went to Riverview High School and graduated with approximately 100 students. Dave English and I estimate that we know AT LEAST 40 people who have overdosed and died from opioids.
Dopesick is really good. I highly recommend you give it a watch. Five episodes are currently out and a new episode is released every Wednesday.

This episode of 99% Invisible dives into three hilarious stories about border disputes between the United States and Canada.

My friend Ryan Hizer produces some of the best music (and other shit) in Pittsburgh. This week, he released a new video for his song, Big Push – and it's mind-bendingly cool. The video was directed and animated by Geoff Hoskinson, who has created videos for the likes of Sufjan Stevens, Kishi Bashi, Deerhoof, TWIABP, and others over the years.
Here's a little something on the video from The AU Review, because, according to Hizer, "Australians like me. They also like cool shit." Congrats, bud!
---
Happening in my Hood
Meet Cole Wolfson
, the new Director of Innovation at Allegheny County Airport Authority 👏👏👏
I met Cole centuries ago after heading back from San Francisco and diving headfirst back into the startup scene. When we first crossed paths, Cole was working at AlphaLab Gear, a hardware accelerator in the East Liberty neighborhood of Pittsburgh.
In his new role (which, like mine, didn't exist before), Cole will be evaluating and integrating startup technology into the airport's ecosystem. Such a rad job!!!
Side note: Cole loves jazz, whiskey, and bike rides.

Three things I'm good at:
Knowing that the sentence above is not grammatically correct.

Being brutally honest.

Shameless self-promotion.
Thank you to Sophie Burkholder for the interview. I know a lot of people have been curious about the title. Mark Anthony Thomas, President of Pittsburgh Regional Alliance (PRA), explains the choice. Here's a hint: Czar = Ambassador
Side Note: I also wrote a little something for the PRA blog this week. Check it aht.
There's a New Czar in Town: Startup Ecosystem to Build on Strengths, Forge Effective Connections

This is kinda happening in my hood. While the content is being created and streamed from Pittsburgh, the online course is available to anyone.
This six-week course examines how historical events in the United States and around the world impacted the art and life of Andy Warhol. Each class focuses on a different decade; from the 1930s to the 1980s.
I'm def contemplating signing up for this. You know, with all of the extra time I have.
That's all for now. Stay weird and relish your 15 minutes.
Until next time,
✌️Lynsie
---
Subscribe to Chirps, my weekly newsletter about startup stuff, no-code tech, and all things marketing.
---
#blacklivesmatter #womxnrule #legalizeit #investinthemidwest
---