Discover more from Lynsie Campbell
I'm a 2x tech founder, pre-seed VC, & author of This Better Work. I publish two newsletters. Microdose Marketing: 1 minute reads on specific marketing topics & This Better Work: Startup advice, pre-seed investing insights, and weird personal stuff. Enjoy!
Creating an online store for book sales (using Webflow)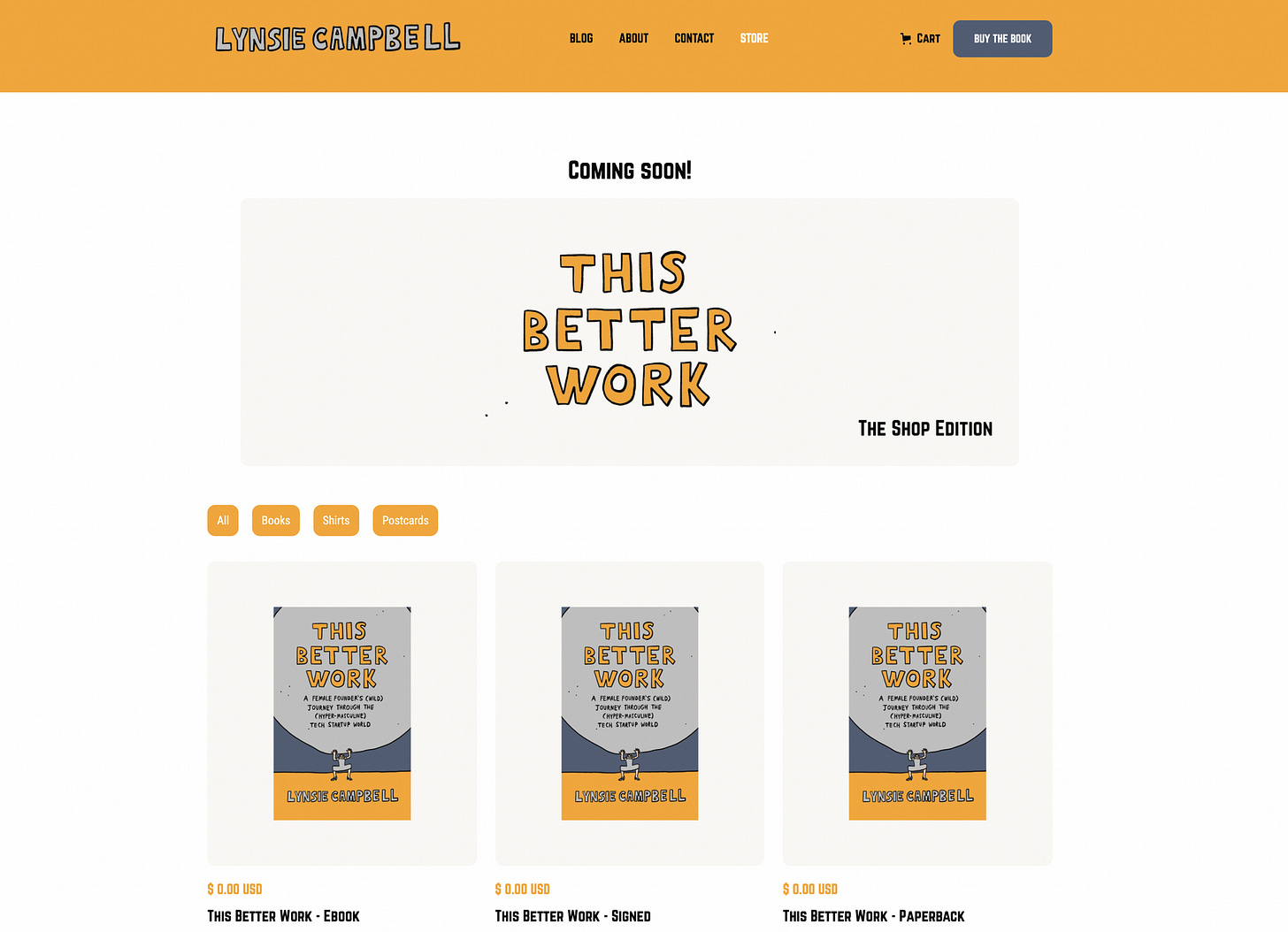 ICYMI: I'm self-publishing my book with the help of Scribe Media.
The whole thing started out as an idea. An itch. I did some research and found an online workshop and I signed up. After that, I was all in. I knew I had a book in me.
Needless to say, this has been a massive learning experience (and super fun, for me). It feels like starting a startup. At least that's how I'm running it.
Why create an online store to sell books on your website?
Let's start with a quick history lesson. Bare with me.
Self-Publishing 1.0 began in the 1990s with desktop publishing and print-on-demand technology.
Self-Publishing 2.0 kicked off with the Kindle in 2008, and quickly saw the rise of digital publishing, reading, and listening to e-books and audiobooks, together with online bookstores and book distribution.
Self-publishing 3.0 sees authors emerging with independent publishing businesses, owning and trading in their own intellectual property on a non-exclusive basis.
More and more authors are taking control of their brand and the work they produce. I like the sound of 3.0. It makes sense.

Why not just sell through Amazon?
This is why☝️ Screw Jeff Bezos and Amazon!
Well, that and some other reasons. The biggest: I want to know my readers (and get feedback from them).
An online shop on my website:
Provides Reader Connection
When someone publishes through a traditional publisher, they don't get any information about their readers. In my mind, that's as valuable as the actual money made from book sales. I'd never want to give that up.
I've been working hard to build my email list over the last year. If you haven't subscribed, please do!
Gives Me Creative Freedom
Direct selling delivers the highest possible level of independence and flexibility. I'm free to experiment.
Generates Better (More) Income
Instead of moving through a chain of distribution and retail intermediaries (all of whom take a cut), I get to skip over the middlemen and net the full profit on the book, minus a small transactional fee.
It doesn't make sense not to do it.
Now it's time to start building.
---
Pick the Platform
Since I'm using Webflow to build my new author website, I decided to look at the e-commerce solution offered by them first. Their basic e-commerce features are enough for what I need.
---
Learn! Find Lots of Resources
Since Webflow is one of the most popular website builders out there right now, there are lots and lots of online resources, templates, and examples to help you get from idea to online store fast.
---
Use the Great Setup Guide
Webflow University has been a fantastic resource throughout the website design process – and that has also been the case with Ecommerce as well.
Getting started in Webflow Ecommerce is easy, thanks to the setup guide in the Navigator panel. I let them walk me through the process and over the finish line.
---
Create the Merch
Again, Webflow has made it super simple to get started managing my merch. Here's a basic overview:
It starts with Collections
Webflow created two Ecommerce collections for me so I could get started fast: Products and Categories. Unlike CMS Collections, Ecommerce Collections have a set of default fields that I can't edit in the Collection schema. Required default product collections fields are Name and Price.
And end with Categories and Products
Products are organized within categories 🪣 🪣 🪣
There are four product types I can choose from:
Physical: shipped to the reader (book, shirt, poster)

Digital: immediately downloadable by the reader (ebooks, audiobook!)

Service: doesn't require shipping (classes, coaching)

Advanced: provides all available customizable options
I created different types of products in different categories within a few minutes. Click Create in the upper right corner and plug in the info. Super straightforward.
---
Two Big Cons I've Found So Far (in Webflow Ecommerce)
I'm not done yet. I haven't messed around much with my Product Page, haven't integrated shipping with Shippo, and need to process and order so I can celebrate and see how all of that works, That said, only two big cons so far...
Bundling
Webflow currently doesn't offer the ability to bundle products into a package. Kinda surprised by this, actually. Seems like a pretty basic e-commerce platform feature.
Sorting and Filtering
This doesn't exist automatically in any meaningful way. If you have a lot of categories (blog and/or e-commerce) you're going to have to look for an external solution.  
Until next time,
✌️Lynsie
---
#blacklivesmatter #womxnrule #legalizeit #investinthemidwest