Discover more from Lynsie Campbell
I'm a 2x tech founder, pre-seed VC, & author of This Better Work. I publish two newsletters. Microdose Marketing: 1 minute reads on specific marketing topics & This Better Work: Startup advice, pre-seed investing insights, and weird personal stuff. Enjoy!
Let's talk about your mail carrier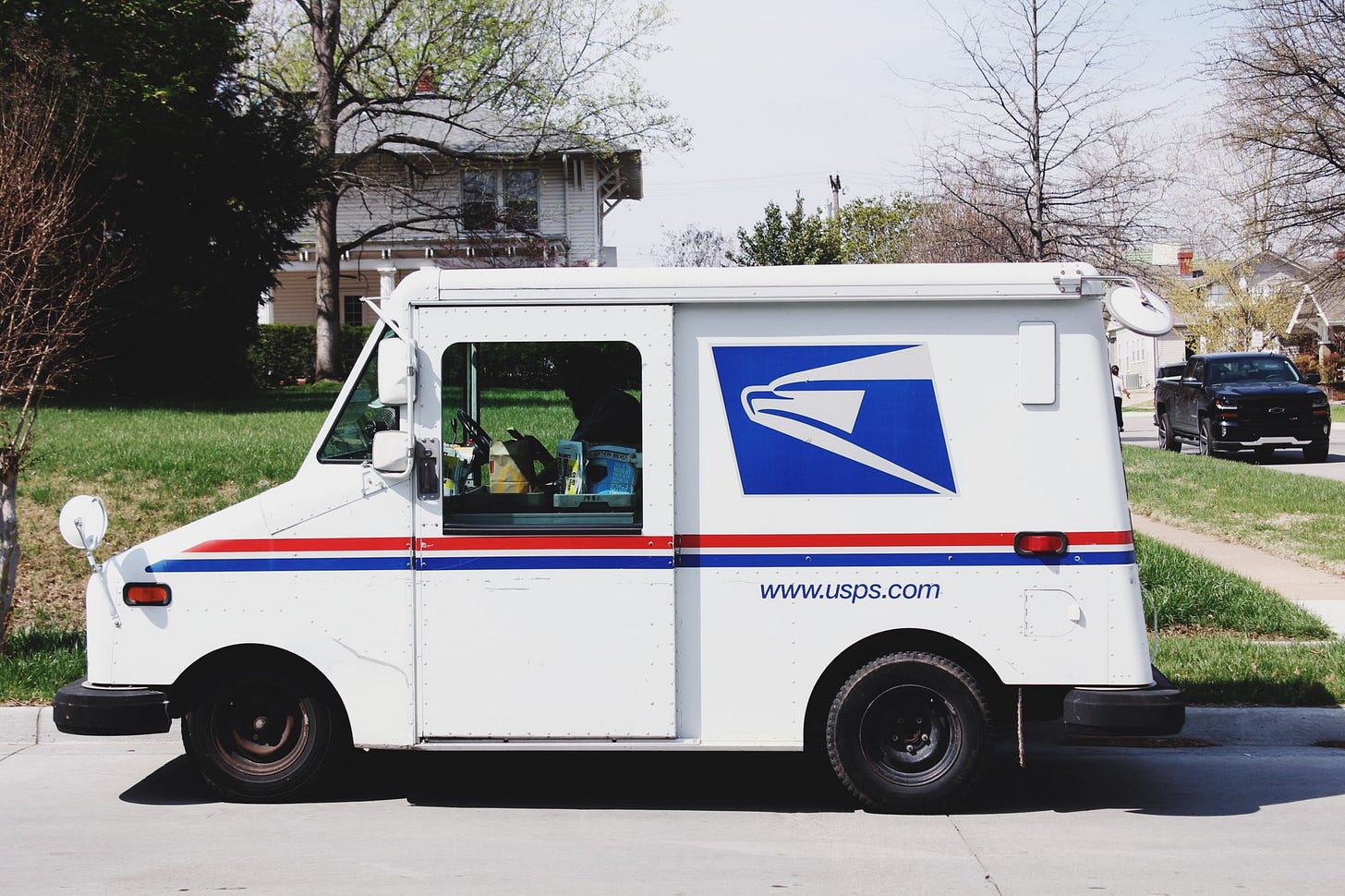 I have an AMAZING mailman named Ty. He's super friendly, beeps when he drives by me walking my dogs, and refers to me by name when I see him in the neighborhood. My mailman in San Francisco figured out I was a hockey fan and frequently sparred with me over the Pens and the Sharks.
This has not always been the case. My previous mailman in Pittsburgh was not a very nice guy. Never a hello. When sitting on my front porch, he'd refuse to hand my mail directly to me. I think he said it was "illegal." Below is a video of him destroying a neighbor's package. The clip made the news in the UK.
Anyway, I'm not here to bitch about mail service or mail carriers. Instead, I'm here to answer a few of the questions I frequently ponder while walking my dogs around the Windermere loop.
Mobility is always on my mind. I'm always thinking about how to move people (or things) from point A to point B, so mail routes are fascinating to me. One day, when I was walking my dogs, I noticed that the mail truck wasn't parked in the place that it's usually parked. A few minutes later, I realized it was a different mail carrier. It wasn't far away, but it wasn't in that exact spot where I usually see it.
So, I asked Ty the next time I saw him, "Do you park in the same places along your route every day?" The answer: Yes (mostly).
The follow-up question: "Do you follow the same route every day, or can you mix that up? Like, start at the end and work backward one day?" He takes the same route every day because there's a system.
My curiosity around this peaks every once in a while. Now is one of those times, so I'm looking up all of the random postal questions that have been rattling around in my brain forever. So, if I'm going to look them all up, I figured I'd share the answers with you. So, here we go.
How many carrier routes are there?
600,000. 300,000 of those represent actual physical geographic boundaries where mail is delivered. The other half are PO Boxes.
How many carrier routes are in each ZIP Code?
There are 40,000 ZIP Codes in the United States, and there are approximately 15 carrier routes per ZIP Code. I checked mine. It has 15 routes, split between PO Boxes and physical routes.
How the hell do they plan the routes???
This is where it gets extra fun. What's the route optimization strategy?
Route Optimization refers to the process of finding the shortest and most cost-effective route between any two points on the earth. There are a few things that the United States Postal Services take into consideration when planning mail routes:
Their Algorithm
The Postal Service has a computer program that maps the exact location of every delivery point. Not just 'this house is here,' but where the mailbox is," says Renfroe. "And this program uses several algorithms to try to generate the most efficient way to travel the route based on the time value that's assigned to each street."
8 Hours: Rural vs. City
A rural carrier's route is much more consistent, and they are paid for the amount of time it takes to complete the route. The guiding principle of route design for city carriers is for a carrier to complete the route in as close to eight hours as possible.
Right Turns
Carriers are not allowed to back up, and the ultimate goal is to make only right turns.
Once mail routes are set, they're not adjusted unless a route seems to be under or overburdened. If a route is flagged, the Postmaster General will perform an inspection of the route and make any necessary adjustments.
And finally, what's with the safari hat?
This is my favorite mail carrier uniform accessory! As for USPS uniforms, here's what I found:
For veteran city letter carriers, CCAs (City Carrier Assistants), and Motor Vehicle Service/Drivers, the 2021 postal uniform allowance is $464. For new letter carriers, the first-year allowance is $571. Uniforms can be purchased from any vendor that accepts the Uniform Allowance Purchase Card (UAPC).
That's all for now. I hope you learned something new and interesting. And Happy National Post Worker Day to all the awesome mail carriers crushing routes every day!
Until next time,
✌️Lynsie
---
#blacklivesmatter #womxnrule #legalizeit #investinthemidwest
---
Resources: