Discover more from Lynsie Campbell
I'm a 2x tech founder, pre-seed VC, & author of This Better Work. I publish two newsletters. Microdose Marketing: 1 minute reads on specific marketing topics & This Better Work: Startup advice, pre-seed investing insights, and weird personal stuff. Enjoy!
Meet Bottlecode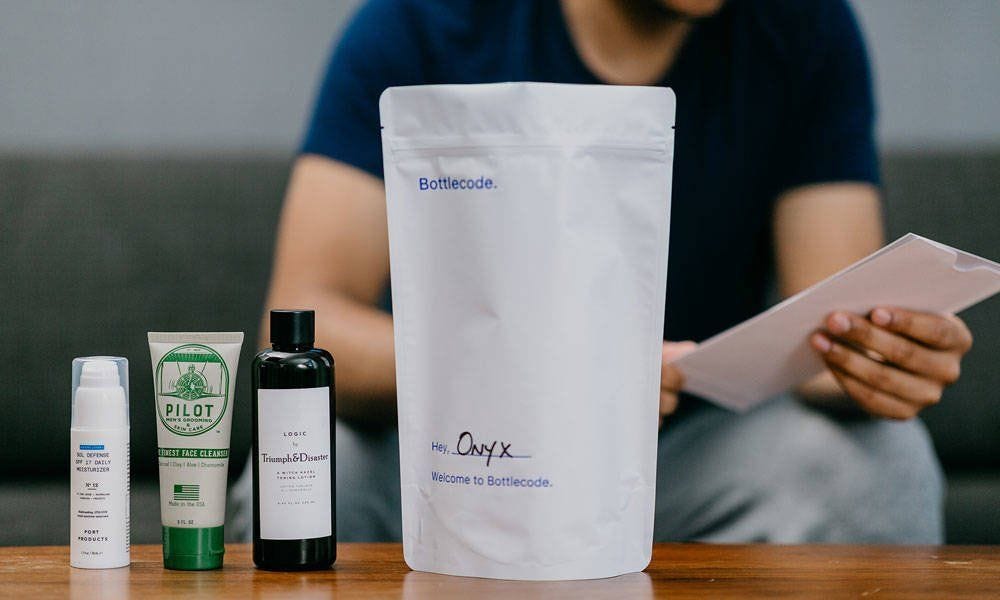 Forecast to reach $166 Billion by 2022, the men's skincare market is on an explosive growth trajectory. And when it comes to skincare, men want solutions, not more products.
Unfortunately, finding the right solution isn't easy. The market is fragmented, making it confusing to navigate. If a guy wants to find a skincare product to help solve a specific condition, he has to scour dozens and dozens of websites, consider each brand individually, and take a guess at what will work for his skin.
Introducing, Bottlecode.
Bottlecode is the one-stop shop for men's skincare, providing education, expert advice, and a suite of highly vetted men's skincare products.
The company uses a mixture of technology and actual human experts (!) to consult with their customers and provide a unique and specialized prescription of skincare products (at the best price), helping men solve their skin problems faster and more efficiently
Get started by taking a 15-question quiz that helps Bottlecode better understand your needs. Based on the results, you get custom recommendations.
My fellow General Partner, Ted Serbinski, took the quiz and embarked on Bottlecode's 30-day challenge.
Backstory: Who is Ted?
Solo dad to 4 kids

Investor in 100+ startups

Busy with a high-stress life, but cares about physical well-being
Goals
Sleep well

Exercise as schedule fits

Hydrate

Simple ingredients
Ted wanted to keep it simple — 3 core products to maximize results.
Here's the routine that was provided by Bottlecode:
30 Days, Morning and Night. Cleanser. Moisturizer. In your case: Anti-aging product. Hydration.
Morning:

Port Products Cleanser (Bottlecode)
Everyman Jack Moisturizer (Ted's add on)
500ml Waiakea volcanic water (Ted's add on)

Evening:

Port Products Cleanser (Bottlecode)
Verso Daily Facial Fluid (Bottlecode)
Eye cream – the anti-aging bonus! (Bottlecode)
Everyman Jack Moisturizer (Ted's selection)
500ml Waiakea volcanic water (Ted's selection)
And because Ted's SUPER EXTRA, he followed it faithfully and came out the other side looking pretty damn refreshed. Ignore the hair – that's s whole other story (and gets a mention in the Acknowledgements section of my book) 😆
Bottlecode was born from the minds of Co-Founder and CEO, Drishay Menon. Drishay worked in Product for Trunk Club – this is where he met his Co-Founder, Rob McIntosh, where Rob was working at Trunk Club's Brand Manager. In addition to Trunk Club, Rob has also done time as Director of Brand for Mack Weldon and was a content creator at both GQ and Esquire.
One of my favorite questions to ask founders is, "What's your superpower?"
Here's the response I got from Drishay, which I LOVED!
"We actually used this as a prompt to have each of us highlight each others' superpowers! This is what we came up with."
Drishay on Rob:
He stays even and balanced through a ton of stress and ambiguity.

The ability to keep putting one foot in front of the other towards a goal – which really is a true superpower when it comes to running and building a business.
Rob on Drishay:
He's a born communicator, connector, and networker with the ability to hold a conversation and build relationships with anyone on any subject. An invaluable superpower, especially as it relates to fundraising.

A natural motivator with the ability to galvanize a team around a particular goal or mission — doing so in a way the group feels bought in, not forced in.
And this is why we love the team at Bottlecode ❤️
---
Bottlecode is currently hiring! Check out job details here.
Connect with Bottlecode online!

Until next time,
✌️Lynsie
--
Buy my book, This Better Work, on Amazon!
Connect on LinkedIn & Twitter.
---
Subscribe to Chirps, my weekly newsletter about startup stuff, no-code tech, and all things marketing.
---
#blacklivesmatter #womxnrule #legalizeit #investinthemidwest