Discover more from Lynsie Campbell
I'm a 2x tech founder, pre-seed VC, & author of This Better Work. I publish two newsletters. Microdose Marketing: 1 minute reads on specific marketing topics & This Better Work: Startup advice, pre-seed investing insights, and weird personal stuff. Enjoy!
Meet OpenVia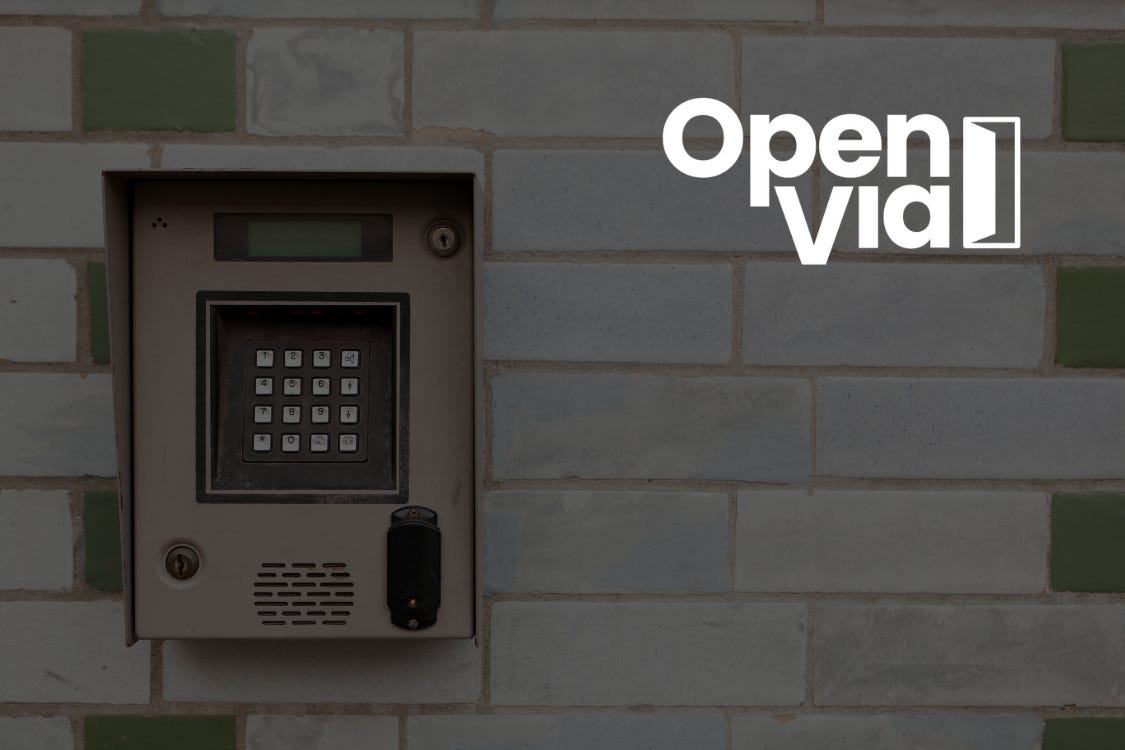 Porch pirates are the worst. People have done a lot to combat them, including installing cameras, having deliveries routed to a more secure location, and creating a fart spray glitter bomb.
To do his part, Patrick Campbell developed The Porch Pod, a smart safe that provided homeowners with a secure place for delivery people to deposit their packages. When a courier arrived at your house with a delivery, The Porch Pod would scan the barcode on the package and unlock it for safe deposit if it was meant for that recipient. Super cool.
But it wasn't the startup Patrick was going to build. It was the startup that pointed him in the right direction.
While things were going well, Patrick noticed something else. Multi-tenant buildings were hitting him up about a solution for their residents. If he could unlock a safe to deliver a package, could he unlock doors that gave delivery services one-time access to securely deliver packages (or food) to tenants?
Patrick had just completed a stint in the Techstars BSH Future Home Accelerator in Munich, Germany when he was faced with a decision. Stay the path with The Porch Pod (hardware + software) or pivot to serve this different market?
After discussions with his investors and team, Patrick decided to pivot.
OpenVia is an API-driven property access platform that gives temporary access to the garages, elevators, and lobbies of any office or residential building through a single API endpoint.
Think Plaid for delivery!
OpenVia opens doors.
For Properties & Residents
With OpenVia, properties can provide secure access to the delivery and service companies their residents rely on. If your building uses OpenVia, you'll never have to run down three flights of stairs to meet a GrubHub driver at the door of your building. A single code will give the driver one-time access to your building to drop your eggrolls off right at your door.
For Delivery & Service Companies
And for delivery and service companies, OpenVia improves efficiency and improves customer experiences by reducing delays. Because seriously, that GrubHub driver doesn't want to stand at your building door just as much as you don't want to have to run down to scoop up your food.

This is a big market. Worldwide, there are over 100M+ properties that could use this service. In addition, this is a billion-dollar problem for delivery companies.
When I asked Patrick what his goal for 2022 is, he enthusiastically responded, "Launching to 100+ properties!" Let's help him get there.
If you know any property owners or managers, particularly those with a big presence in Atlanta or Chicago, Patrick would love an intro.
And my favorite question to ask founders: "What's your superpower?"
Gee, I dunno, being insanely scrappy?
I like the sound of that.
Big thanks to Jonathan Ellis at Sandalphon Capital for making the intro to Patrick. The Fund Midwest is looking forward to opening doors for this amazing founder!
Until next time,
✌️Lynsie
--
lynsiecampbell.com
betterwork.vc
thefund.vc
Buy my book, This Better Work, on Amazon!
Connect on LinkedIn & Twitter.
---
Subscribe to This Better Work, my weekly newsletter about startup stuff, no-code tech, and all things marketing.
---
#blacklivesmatter #womxnrule #legalizeit #investinthemidwest