Discover more from Lynsie Campbell
I'm a 2x tech founder, pre-seed VC, & author of This Better Work. I publish two newsletters. Microdose Marketing: 1 minute reads on specific marketing topics & This Better Work: Startup advice, pre-seed investing insights, and weird personal stuff. Enjoy!
Meet Reza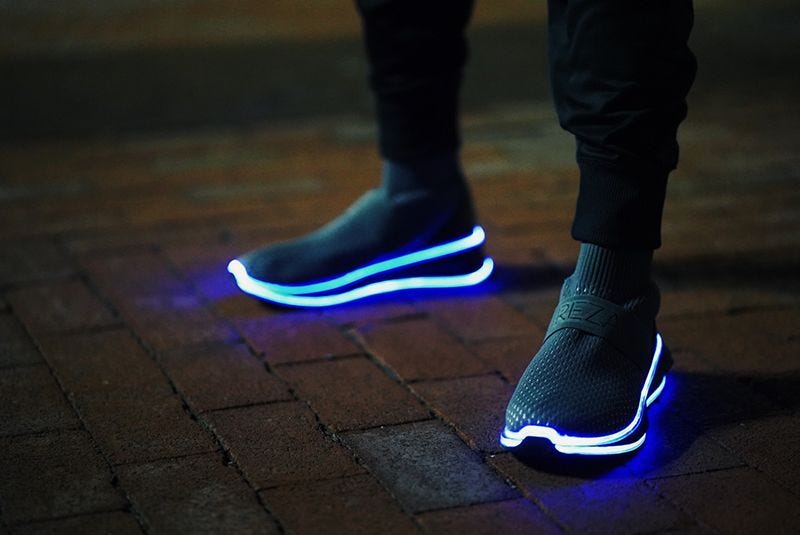 Mustafa Syed was introduced to The Fund Midwest by our friend and investor, Tapan Kataria (better – and widely – known as Tops!). We're so thankful he made this introduction.
My fellow GP, Ted Serbinski, first met Mustafa at a coffee shop in Birmingham, MI. During that meeting, Mustafa opened a shoe box to show Ted this:
Within minutes, half a dozen people had surrounded the table, asking where they could buy these shoes – and taking pictures of them to share with their friends. It was at that moment that Ted knew we needed to invest.
Mustafa is the founder of REZA, a Detroit-based footwear brand and community. His team has developed the world's most advanced lighted footwear technology, which includes a Tesla-inspired solid-state lithium battery and laser diode.
REZA is the first to introduce this cutting-edge technology to the sneaker world.

Shortly before REZA's first drop in August 2021, Steve Aoki, one of the most popular EDM artists in the world, was seen wearing an unreleased pair of their shoes. The startup immediately received more than 25k applications for its drop. It also kicked off a worldwide following of the brand.
Side note: While researching this post, I discovered that Steve Aoki and I share a birthday! 🎂 #birthdaybuds
When drop day arrived, the first run of shoes were gone in less than 2 hours. At one point, over 8,000 people were in checkout!
Outside of the shoes being absolute 🔥fire🔥, The Fund Midwest loves Reza for a few other reasons. The company sits at the intersection of three big market shifts:
The growth of the creator and influencer economy.

Using technology for personalization.

And of course, the rise of NFTs (yep, every pair of shoes comes with an NFT!).
And bonus points for Mustafa being Techstars alum! REZA completed the Techstars Sports accelerator in 2020.
We've had a blast getting to know Mustafa since investing. To be honest, his investor updates are by far my favorite – mostly because he always includes an awesome video that highlights what he's been working on since we last talked.
His most recent update was sent to us from Taiwan, where he was working side-by-side with his manufacturer on his next drop!
And yes, I will be in line for a pair of these kicks.
For more, check out REZA here:
Until next time,
✌️Lynsie
--
lynsiecampbell.com
buildhooman.com
thefund.vc
Buy my book, This Better Work, on Amazon!
Connect on LinkedIn & Twitter.
---
Subscribe to Chirps, my weekly newsletter about startup stuff, no-code tech, and all things marketing.
---
#blacklivesmatter #womxnrule #legalizeit #investinthemidwest