Discover more from Lynsie Campbell
I'm a 2x tech founder, pre-seed VC, & author of This Better Work. I publish two newsletters. Microdose Marketing: 1 minute reads on specific marketing topics & This Better Work: Startup advice, pre-seed investing insights, and weird personal stuff. Enjoy!
My Book is Done! Plus, Texting-While-Walking, Asking Great Questions, and Viva Blockbuster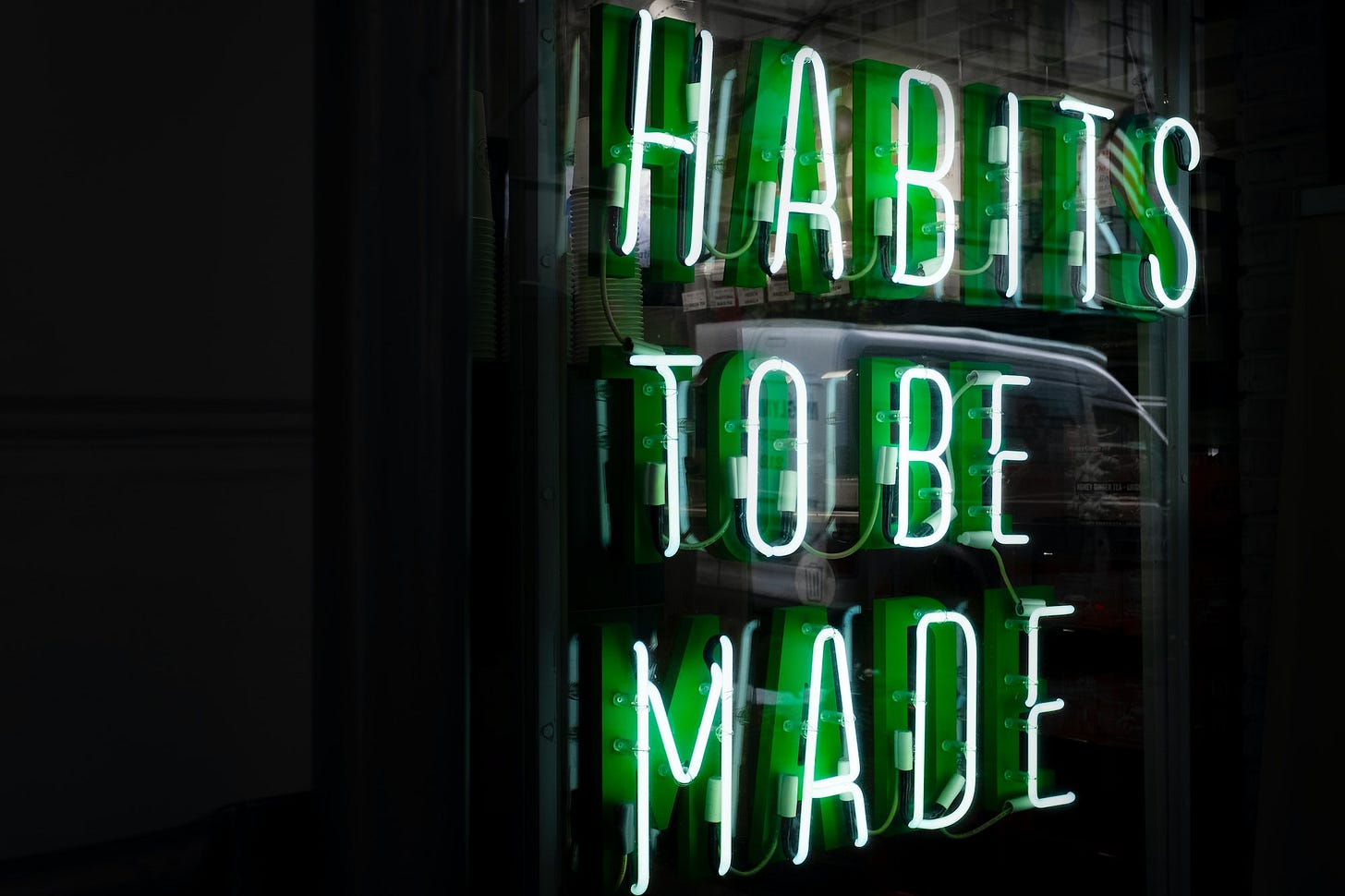 This week's edition of Chirps is dedicated to a thing we all have — habits 😬
---
A Single Habit Helped Me Write a Book
The manuscript is done (for now)! Time to party, and there's no better way to celebrate than with 1:16 of DLR high kicks! 🎉🎉🎉
I decided to write a book on April 28, 2020. That was 325 days ago. I've been writing my whole life, but writing a book is a completely different thing. To pull this off, I'd have to make a few changes in my life. I wouldn't just have to make changes, I'd have to stick to them. Read A Single Habit Helped Me Write a Book →

Last step before I turn the book in for editing: I have to read it out loud to someone. Scribe says so. To make this more fun, I'm going to read it in dramatic audiobook style on Clubhouse over the weekend. I'll ping you to pop by.

Still need a Clubhouse invite, let me know.
---
Learn Your Customer's Habits
It's been two years since I talked to the people who were using LaneSpotter. To make sure our current vision is still a match for the market, the team conducted a set of customer interviews over the last two weeks.

The Goal: Learn as much as we could about people's current biking habits.

If you've never conducted a Customer Interview, here are a few tips from my friend (and amazing UX Designer), Anna Lawn.

🧐 Ask open-ended questions. Avoid 'yes or no' questions that stall conversation. Also avoid leading questions. Your job is to uncover truth and honesty.

🥵 Ask for real-world examples. You can tease these out with questions like "Tell me about a time when..." or "Walk me through the last time you did..."

😤 Listen for the 'why' — You want to get to the underlying beliefs, values, and motivation of the person. Listen for strong feelings like frustration and joy.

For more tips, check out How to Conduct User Interviews from Interaction Design Foundation.
---
Worst Habit Ever?
According to Wired, People Who Text While Walking Actually Do Ruin Everything.

Clever experiments demonstrate how having your face in your phone disrupts the flow of pedestrian traffic and makes life difficult for everyone.

Being a pedestrian is hard enough. Add in the Smartphone Six-Step and it's amazing we're all still alive.
---
My High School Habit: Movies
I grew up a rabid consumer of media — books, movies, music. My unabashed love of these things led to a series of high school jobs that indulged my interests. My first job was at a local video store called Video Hits. After a few years, I upgraded from VHS to the big screen when I got my first movie theater job.

The universe must've been listening when I read that section of Chapter 1 out loud earlier this week, because shortly after, these two amazing bits of media were served up to me.

🎥 The Last Blockbuster on Netflix: This nostalgic documentary reveals the real story of Blockbuster's demise, and how one last location in Oregon keeps the spirit of a bygone era alive.

🎧 The Megaplex! Epidose 453 from 99% Invisible: Back in the early 1990s, movie theaters weren't that great. But in 1995, the AMC Grand 24 in Dallas changed everything. It was the very first movie megaplex in the United States.
---
Hooked: How to Build Habit Forming Products

Hooked by Nir Eyal is by far one of my favorite product-focused business books ever. I cracked it back open this week to read my highlights.

If you care about customer engagement and are committed to designing products that build positive habits, Hooked is worth a read.
Until next time,
✌️Lynsie