Discover more from Lynsie Campbell
I'm a 2x tech founder, pre-seed VC, & author of This Better Work. I publish two newsletters. Microdose Marketing: 1 minute reads on specific marketing topics & This Better Work: Startup advice, pre-seed investing insights, and weird personal stuff. Enjoy!
Why a Startup Studio? Plus, a Brand Rebrand, Tech Nightmares, and a Neighborhood Beer Release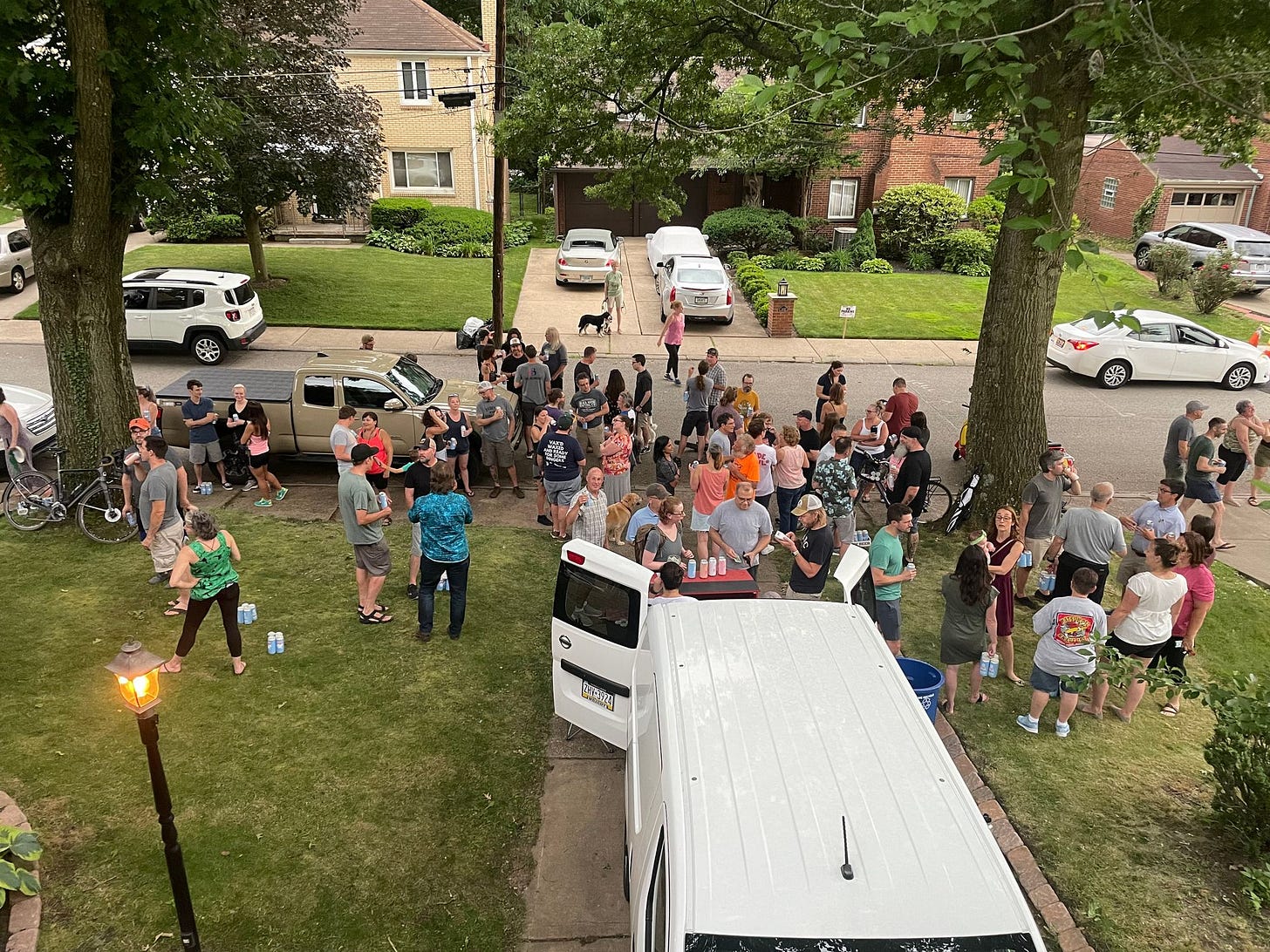 Hello friends!
After several weeks off, I'm back with the first Summer edition of the newsletter. And moving forward, I'll be calling the newsletter This Better Work (see Brand Rebrand below). URL update coming soon.
These last few weeks "off" made me really how much I've missed writing.
Why haven't I been writing lately? Honestly, I just haven't had much to write about.
I typically do a thing and then write about that thing. But over the last month or so, the majority of my time has been spent reviewing legal documents, pitching investors, and doing client work (which I can't talk that much about, even though it's really really cool stuff).
I'm simply not doing as much doing as I normally do.
That said, all of the emailing, Zooming, and pitching are paying off. Over the last two weeks, the Better Work Ventures team secured our first investment commitments!!! And I'm super pumped about the people who are hopping on board to help us get this off the ground.
As every founder knows, the first checks are the hardest to get, so it feels good to get those yes's under our belt.
Time to celebrate. Happy Friday!
---
Why a Startup Studio?
Five months ago, I decided that I wanted to launch a startup studio in Pittsburgh. Since then, lots of people have asked me, "Why a startup studio?" I figured I'd share my reasoning for building Better Work Ventures. And talk a little bit about why I LOVE the studio model.
Read "Why a Startup Studio?" on the Blog
---
A Brand Rebrand
Seriously, this is a mess👆
I've been hardcore ignoring all of my one million websites over the last couple of months. The copy needs to be updated. Some of the web forms need to be connected to Airtable. Automated emails need to be written and launched.
And the branding desperately needs to be tied together!
A few months back, I talked about being hesitant to tie the studio name to the title of my book and all of the other work I do. Now I realize that that was absolutely incorrect.
The studio, my book, my personal website, and this newsletter should be wrapped in the same paper. Tying this all together will go a long way in our efforts to attract the best founders, build great companies, and co-invest with awesome seed-stage investors.
Here's the problem. I'm not a designer. I'm a "hack something together to get it live" startup founder. This solution works in the beginning but definitely requires a professional touch shortly thereafter. That's where I am right now.
🎨
Interested in helping me create a single brand across four Webflow websites (personal, book, blog, and studio)? Hit me up at lynsie@betterwork.vc.
---
The Global Startup Ecosystem Report 2022
This week, people who aren't founders in Pittsburgh have been busy celebrating The Global Startup Ecosystem Report 2022.
Why are they celebrating?
Pittsburgh was ranked #13 on the Top 100 Emerging Ecosystems list – up from #23 last year. From the report:
Pittsburg moved up 10 spots from last year to #13, aided by Duolingo's $3.6 billion exit.
They didn't even bother to spell Pittsburgh correctly. Ugh.
So, what is an emerging exosystem?
Emerging ecosystems are startup communities at earlier stages of growth that have high potential to be global top performers in the coming years."
Here's a list of the Top 20 Emerging Ecosystems:
While we may have climbed 10 spots, our early-stage funding number is worse than it was last year. I didn't even think that was possible! 😭😭😭
The global average for a seed round of investment is $671,000.
Last year, we clocked in at $75,000. This year, it's a paltry $50,000.
I honestly don't know how anyone can say that we don't have a problem with early-stage funding in this city.
Read The Global Startup Ecosystem Report 2022
---
What the Tech? Nightmares Edition
Crypto companies are laying off staff, freezing withdrawals, and trying to stem losses, raising questions about the health of the ecosystem. Is this another dip? Or is it something else???
The above New York Times article stems from the epic Celsius crash and burn this week. The company, which is one of the largest crypto lenders (valued at a whopping $3.25B), announced Sunday night that it was "pausing all withdrawals, Swap, and transfers between accounts." This means that their 1.7 million customers no longer have access to the crypto that they deposited with Celsius.
I popped over to their website to take a peek after watching people on Twitter lose their minds over the collapse on Sunday night. This headline is certainly not aging well. Woof.
---
Airbnb was built on trust. Its business model rests on the idea that strangers can trust one another.
So it makes sense that they'd employ an internal safety team, known by insiders as "Black Box," to do everything they can to cover up the deadly gas leaks, concealed cameras, robberies, murders, and rapes that take place at their rental units.
This is some wild shit.
---
Read More Books in 2022
My current Kindle reading streak is at 29 weeks. This may be my longest streak ever!
Since I last shared, I've added three more books to the "completed" list.
Do Androids Dream of Electric Sheep by Philip K. Dick: I can't go too long without a science fiction fix – and I can't believe I hadn't read this one yet (considering it was the inspiration for the film Blade Runner).
This dystopian science fiction novel, first published in 1968, is set in a post-apocalyptic San Francisco where Earth's life has been greatly damaged by a nuclear global war, leaving most animal species endangered or extinct. But don't worry, there are electric versions of everything.
The Mom Test by Rob Fitzpatrick: Validate, validate, validate. Talking to customers is one of the foundational skills of both Customer Development and Lean Startup. We know we're supposed to do it, but nobody seems willing to admit that it's hard to do right. This book shows you how customer conversations go wrong and how you can do better.
Zero Fail by Carol Leonnig: Leonnig has been reporting on the Secret Service for The Washington Post for most of the last decade, bringing to light the secrets, scandals, and shortcomings that have plagued the agency.
It took me a long ass time to finish this book. In fact, when I realized it was 526 pages long, I wasn't sure I'd make it through. I was wrong. I read every single word.
---
Bookmarks of the Week
Here are a handful of articles that I've bookmarked as resources. All three provide great tips for early-stage tech companies.
---
A Neighborhood Beer Release
I wanted to leave you with some pictures from a fun event that East End Brewing hosted at my house last night – the release of their Swisshelm Park "You Are Here" neighborhood beer!
Dear East End Brewing,
Thanks for coming up with this cool idea. Proud to host the release of your #65 neighborhood beer.
Visit East End Brewing. You won't regret it.
Until next time,
✌️Lynsie
--
lynsiecampbell.com
betterwork.vc
thefund.vc
Buy my book, This Better Work, on Amazon!
Connect on LinkedIn & Twitter.
---
Subscribe to Chirps, my weekly newsletter about startup stuff, no-code tech, and all things marketing.
---