Discover more from Lynsie Campbell
I'm a 2x tech founder, pre-seed VC, & author of This Better Work. I publish two newsletters. Microdose Marketing: 1 minute reads on specific marketing topics & This Better Work: Startup advice, pre-seed investing insights, and weird personal stuff. Enjoy!
QR Code vs Business Card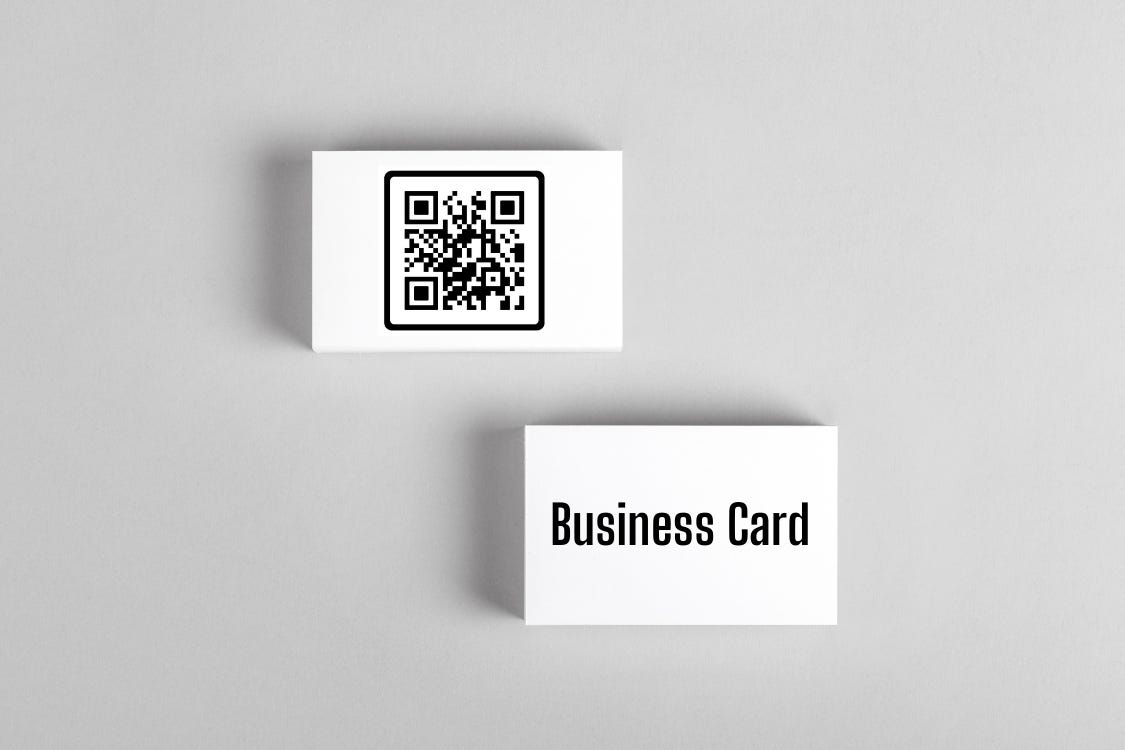 This week, I was invited to attend Smart Business Dealmakers Conference by two of my favorite ladies in all the land – Gabriela Isturiz and Allison Howard.
Both are receiving an award at the event. And Allison asked if I'd be her date to the Cocktail Reception! Hell yeah. And honored.
And then it dawned on me. I don't have any business cards. Shit.
And then something else dawned on me.
I just created a QR code to embed into a super-secret project for Better Work Ventures. A code that directs people to our website to get more info.
Can I just use a QR code as a business card??
The answer is yes. Here's how to do it:
Hop on over to QR Code Generator (now that's one generic name) and create a free account.

Click the Create QR Code button in the top right corner, and select an option. I went with Social Media since I knew I wanted to send people to a few social media pages AND two websites.

Now it's time for color customization. I'm a big believer in creating a brand – even if it's a personal brand. Pick some fonts and colors that you like and stick with them.

And if you use Canva for deesign, you can save all of these things in your Brand Kit. Here's what my Brand Kit looks like in Canva:
Next up: Select an image to be displayed at the top of your QR code "business card." You can use one of their prebuilt templates (see below) or add one of your own. Again, since I want to stick with my brand, I created a header image in Canva.
Now, select all of the different online channels where you might want to direct a new contact. Like I mentioned above, I went with four: LinkedIn, Twitter, My Personal Website, Fund + Studio Website.
The next section (that's not necessary, but totally fun) is the Welcome Screen image. This is a picture that's displayed as your page is loading. I used the Better Work Ventures logo.
And last but not least, you can add a share button. Why the hell not, right?
At the end of all of this, you get a QR code that, when scanned, directs people to a page that looks like this:
My last step, to make this easy to share when I'm at an event, I saved the QR code on my phone. On the day of an event, I'll set it as my wallpaper.
Then, every time I unlock my phone, the QR code will appear and I can share it with my new contact to connect. Here's what it looks like on my lock screen:
As my son would say, easy peasy lemon squeezy! Worked like a damn charm.
Until next time,
✌️Lynsie
--
lynsiecampbell.com
buildhooman.com
thefund.vc
Buy my book, This Better Work, on Amazon!
Connect on LinkedIn & Twitter.
---
Subscribe to Chirps, my weekly newsletter about startup stuff, no-code tech, and all things marketing.
---
#blacklivesmatter #womxnrule #legalizeit #investinthemidwest