Discover more from Lynsie Campbell
I'm a 2x tech founder, pre-seed VC, & author of This Better Work. I publish two newsletters. Microdose Marketing: 1 minute reads on specific marketing topics & This Better Work: Startup advice, pre-seed investing insights, and weird personal stuff. Enjoy!
The Financial Model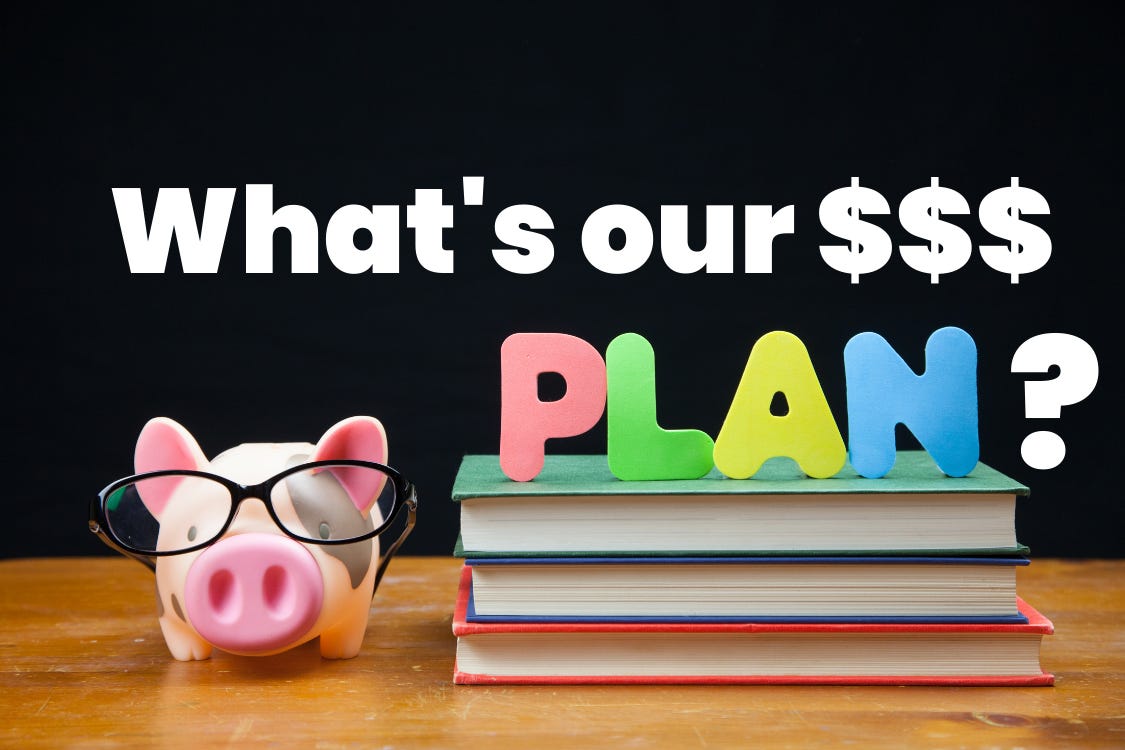 This week, the team (with help from one of our favorite advisors, Matt Harbaugh), tackled one of the most crucial elements of the studio:
The Financial Model.
When it comes to a startup studio, there's more than one way they can be financed and managed. While we'll be working through the details of this in the first couple of weeks of the GSSN Startup Bootcamp, the team wanted to take a stab at the financial model in advance so we could go in with a solid foundation – and on the same page.
I'm glad we stabbed.
If you're in the early stages of startup life, know that you want to raise VC money, but haven't yet taken the time to build a model, do it now. It really is the foundation from which every conversation will stem.
Yes, for most of you, the process will be painful and the numbers will seem ridiculous. That's fine. Trust me, at the end of every VC pitch I did as a founder, I wanted to look across the table and say,
"We all know this is bullshit, right? The projections, the roadmap, the plan. We don't know what the fuck is going to happen over the next sixty days, let alone the next five years."
That said, investors will want to know that you have some idea of how you can get to $10M, $50M, or $100M in revenue. You need to have that answer ready – and a model will get you there.
And once you're done, you'll be in a much better place as a team and business.
After working through our model, the Hooman team now knows exactly how much money we need to raise to do all of the things we want to do for our future founders and investors.
Here's how we'll be investing:
Studio Investment: We'll be making small investments in approximately 10 ideas per year and running them through a 3 - 4 month validation process. Part of this process will be the financial model.

Pre-Seed: At the end of the validation process, the Go / No Go decision will be made. Do we believe in this enough to make a big investment and start the build process? If yes, we'll write another (much larger) check and work closely with the founding team over 6 to 9 months to launch the MVP, acquire first customers, and gain initial traction.

Seed: Keep hitting milestones and we'll write another check (along with our investors and co-investors) at the seed stage.
We'll be sharing the full details, including the amounts invested at which stage, soon!
---
If you've never put together a basic financial model, here are a few resources, recommended by our future studio accountant, Chris Millard:
Runway: A free, visual tool to help startup founders understand, manage, and extend their cash runway.
Forecastr: Online software that helps founders forecast revenue, predict runway, understand their numbers, and get funded.
LivePlan: Software that takes you step-by-step through the process of creating the powerful financial reports you need for your business plan—even if you don't have prior business experience.
That said, Chris also included in his response to me on this question,
"All have issues. Hard to beat good old excel modeling."
---
Financial modeling is not one of my superpowers. While I've gotten much, much, much better at the financial side of startups, I'm still a builder and creator at heart.
Lucky for me, my teammate on the other side of the coin is a master in this domain.
When I was writing about the founding team a couple of weeks ago, I asked Nathaniel and Alejandra what they thought their superpowers are, here's what Alejandra said:
My superpower(s): problem solving, identifying the right opportunities, numbers (the way Lynsie remembers names, I am good with numbers), VC operations, strategic planning.
Skillset matching, baby!
Until next time,
✌️Lynsie
--
Buy my book, This Better Work, on Amazon!
Connect on LinkedIn & Twitter.
---
Subscribe to Chirps, my weekly newsletter about startup stuff, no-code tech, and all things marketing.
---
#blacklivesmatter #womxnrule #legalizeit #investinthemidwest