Discover more from Lynsie Campbell
I'm a 2x tech founder, pre-seed VC, & author of This Better Work. I publish two newsletters. Microdose Marketing: 1 minute reads on specific marketing topics & This Better Work: Startup advice, pre-seed investing insights, and weird personal stuff. Enjoy!
Three Things I Love About Failure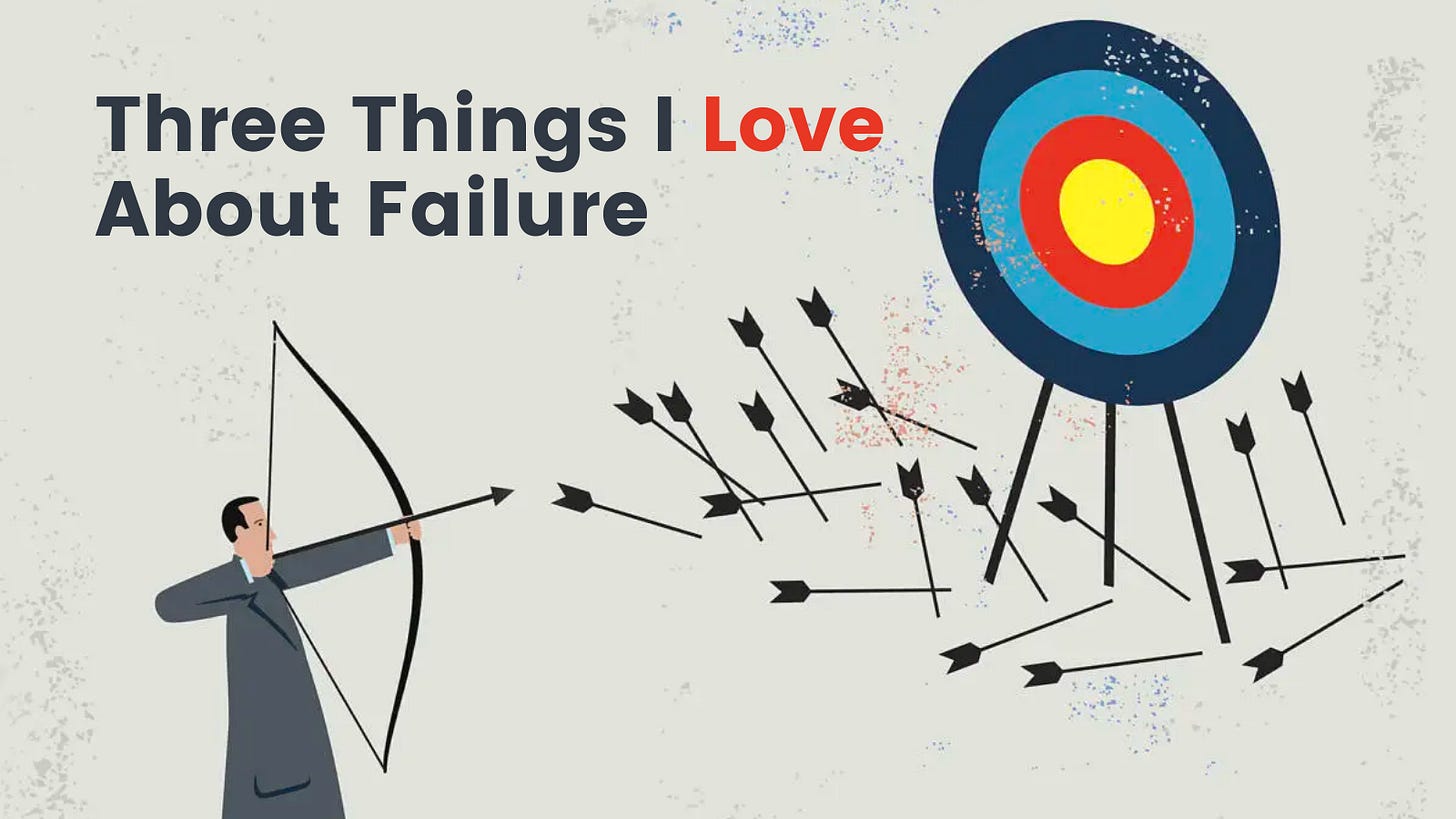 And while failure hurts in the moment, I ultimately end up loving and appreciating everything that comes from it every single time. Because it's made me who I am today. Each of those failures has helped me carve a unique path — and I wouldn't trade that for anything.
Don't get me wrong. I've experienced more than my fair share of success as well. But with that has come a greater number of failures. That's startup life. And it's what I want to talk about today. Failure: The most crucial part of the founder's journey.
Failure is a key theme in my book, This Better Work: A Female Founder's (Wild) Journey Through the (Hyper-Masculine) Tech Startup World. In fact, the first line of the description on the back reads:
Most of the founder stories we hear are the successful ones—the ones with happy endings. This is not that kind of story.
Each chapter in the book revolves around a pivotal moment in the founder's journey. Things like raising money, hiring the first team members, landing the first big deals, building great partnerships. All of these things are hard. Some of them I did well. Others I did not.
Why do I like talking about my failures so much? Partly because they're the best stories. And when I say best, I mean the funniest. When you look back at the failures, there's usually a lot to laugh about (once you're done sobbing).
But also, I want to remind people that failure is natural — and it needs to be normalized. In the startup world, failure is absolutely inevitable. More things are likely to go wrong than they are to go right, so you need to be prepared for that.
Let's walk through three of the things that I like most about — and have learned from — failure.
Failure is a redirection. It shows you where you shouldn't be.
If you read my book, you know that LaneSpotter imploded in spectacular fashion. Not because I couldn't get it off the ground. Not because I could attract users. Not because I couldn't build partnerships. Because I picked the wrong person. And it's not the first time I've done that. The first time I invited the wrong person into my life was a few years into my time at ShowClix (see below). Lesson learned — you can make the same mistakes twice.
I learned a lot from my failures with LaneSpotter. For one, I now know that I'll never take something like that on by myself again. I thrive as part of a team. I've found that, more than anything, I love brainstorming, building, and growing a thing with other humans.
I've also found that I'm happiest helping other people turn their startup dreams into a reality. There's value in everything I've experienced over the last 15 years — and I want to pass it on to others. Partly so they can avoid some of the mistakes I made, while still warning them that they'll still make a ton of mistakes on their own, regardless of who's sitting next to them.
I also realized that hadn't completely healed from my experience with the wrong person at ShowClix. Years later, I still couldn't trust anyone to play such an important role in my life as a founder — and I needed to figure out how to get over that.
Failure is an opportunity. It's a chance to reevaluate and come back stronger with better reasoning.
From the outside, my first startup ShowClix looks like a success story. But in my mind, from my perspective, it wasn't.
Some of those years were the hardest years of my life — because of one major mistake that I made. A single failure early in my career that shaped my future as a tech founder, for better and worse. I picked the wrong investor.
What I didn't realize at the time is that PEOPLE MATTER MORE THAN ANYTHING ELSE.
The biggest luxury you have as a founder is getting to choose who sits at the table with you every day. And when it came to hiring our core team, we did a great job. Huge success. It's been the biggest win of my career so far. I'm not exaggerating when I say this, the early ShowClix hires were (and still are) the best of the best. Absolute startup rock stars. And a big part of that is because we vetted them the right way (See Chapter 5: Hiring The First Crew).
The people in your life matter the most. I know this now. I didn't know this when I was raising money for ShowClix. I will never make this mistake again. This was, and probably always will be, the hardest failure I'll have to live with.
After that experience, I was afraid of investors. I didn't think I'd ever be able to raise money again. I wasn't sure I could invite someone into my life like that again.
Until I met Ted Serbinski – and he invested in me by accepting me into the 2018 Techstars Mobility cohort.
While going the venture route was not the right decision for LaneSpotter — mostly because I wasn't emotionally or mentally ready at the time — I met some of the most amazing people while in the program. Taking that leap gave me the confidence to let new people into my life again. It showed me that I could (and should) trust again.
The people I met in Detroit helped me use my failure to come back stronger and transform my life. Because...
Failure is not fatal. No matter how hard it may be, know that failure simply means you get another shot to try it all again. Or, a shot to try something completely new.
Shutting down LaneSpotter was one of the hardest things I've had to do professionally. But I used it as an opportunity to reevaluate what I wanted to do next — to think thoughtfully about what I wanted my life to look like as I moved forward. And it became clear to me that what I wanted to do was take my experience and help other founders be successful.
I started to do contract work with early-stage, first-time founders across the country. While I found the work super fulfilling, I also realized that I wasn't going to be able to help as many people as I wanted to in this capacity. And then Covid hit and I had a lot more time on my hands. It seemed like the perfect opportunity to do something I've always wanted to do — something that could help a lot of people. I decided to write my book.
Around the same time, Ted called me about an idea he'd been kicking around for a long time. He'd always wanted to launch a fund focused on investing in what he calls "The Diamond in the Midwest."
Even though I didn't produce the home run company he wanted and expected during my time in his Techstars program, he saw that I was capable, passionate, driven, and fiercely competitive. We'd built a friendship and he wanted to work with me again — in a way that I never would've imagined possible. He invited me to join him as one of the founding General Partners of The Fund Midwest. He gave me the opportunity to invest in other entrepreneurs.
Yes, it's been a wild ride, filled with more ups and downs than I'd ever wish on anyone else, but for me, it was all worth it.
To sum it up:
Failure is inevitable. What you do with those experiences is what's most important. Failure can transform your life in a very positive way if you let it.

Use failure as an opportunity to try new things, even if they seem crazy. Why? Because you can fail and start over again!

Surround yourself with the best people possible. As a founder, one of the biggest luxuries you have is being able to decide who sits at the table with you as you make some of the hardest decisions of your life. Choose wisely.

And you better bet I have something new tucked up my sleeve right now. Stay tuned!
Until next time,
✌️Lynsie
---
Subscribe to Chirps, my weekly newsletter about startup stuff, no-code tech, and all things marketing.
---
#blacklivesmatter #womxnrule #legalizeit #investinthemidwest