Discover more from Lynsie Campbell
I'm a 2x tech founder, pre-seed VC, & author of This Better Work. I publish two newsletters. Microdose Marketing: 1 minute reads on specific marketing topics & This Better Work: Startup advice, pre-seed investing insights, and weird personal stuff. Enjoy!
Who's crazier? WeWork's Adam Neumann or SpongeBob SquarePants?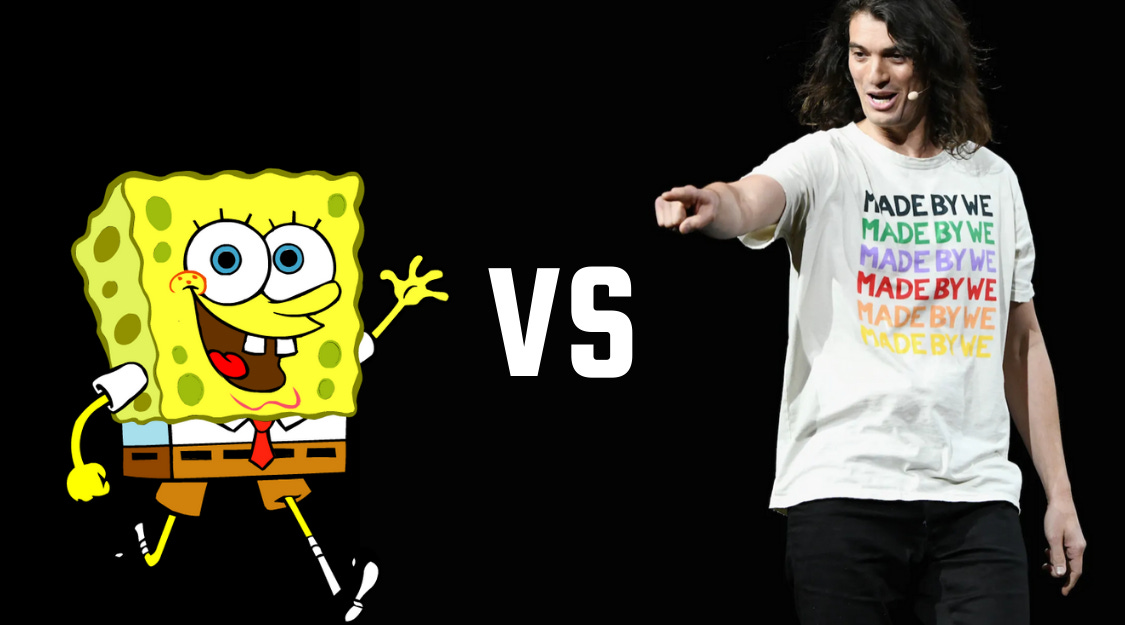 Hello friends!

Starting off the email this week with an ask. Do you know a GIS (Geographic Information Systems) expert? If yes, send 'em my way! It's for LaneSpotter (:

And now, back to our regularly scheduled, non-sensical programming.
---
Meet This Week's Rough Rider: Landon Bloomer
Do you know how I know LaneSpotter is gonna work? The "bike button" that I've had stuck in my head for four years was located two blocks from my house in my tiny Pittsburgh neighborhood.

Landon Bloomer is the owner of this button. He's the Co-Founder and COO of ANGLR. Their mission: Better sport fishing through a dedication to discovery, friendship, fishing, and memories. Thanks for leaving a button on my porch, Landon! I can't wait to have neighborhood beers with you and our mutual mountain biking friends! (I ❤️ PGH).

Huge thanks to Matt Harbaugh at Mountain State Capital for connecting the dots during a recent chat and making this intro. I appreciate you, Matt!
---
Good Media
I'm not sure who's crazier, Adam Neumann from WeWork or SpongeBob SquarePants. Regardless, both are very entertaining.

WeWork: or The Making and Breaking of a $47 Billion Unicorn: The Hulu documentary depicts WeWork as the Fyre Fest of tech. The main character is Co-Founder and CEO Adam Neumann: "If you tell a 30-something male that he's Jesus Christ, he's inclined to believe you."

The SpongeBob Movie: Sponge on the Run: After SpongeBob's beloved pet snail Gary is snail-napped, he and Patrick embark on an epic adventure to The Lost City of Atlantic City to bring Gary home. The kiddo was LOCKED IN from the beginning — and I enjoyed it along with him.
---
Adidas + LEGO 🤤
Here's a brand combo that I can't resist! Through this partnership, you can customize your Adidas with LEGOs! This version of the Adidas Ultraboost DNA running shoe went on sale yesterday (April 8, 2021) and sold out IMMEDIATELY.

Damn. #tooslowjoe
---
Two Bibles

I learned about two "bibles" this week. One for design, the other for jazz.
Material Design: Material Design is the standard for designing and creating websites and apps. It was created by Google in 2014 to help teams build high-quality digital experiences for Android, iOS, Flutter, and the web. Everyone working in UI/UX knows about Material Design.

The Real Book: It started as The Fake Book. Then it was The Real Book, but illegal. Now, it's The Real Real Book. Learn how The Real Book came to be this bootleg bible of jazz in the most recent episode of 99% Invisible. Super interesting, even if you're not a jazz musician.

Side note: The Real Book originated out of Berklee School of Music. Two friends of mine, Melinda Colaizzi, and her husband, Kristian Habenicht went to school there.

When we caught up this week, Melinda pulled out her "mandatory" copy! I love good timing.😄

Until next time,
✌️Lynsie