Discover more from Lynsie Campbell
I'm a 2x tech founder, pre-seed VC, & author of This Better Work. I publish two newsletters. Microdose Marketing: 1 minute reads on specific marketing topics & This Better Work: Startup advice, pre-seed investing insights, and weird personal stuff. Enjoy!
Words From Fred Rogers, a Cork Board of Love, and the Inaugural Rough Rider
"There are three ways to ultimate success: The first way is to be
kind
. The second way is to be
kind
. The third way is to be
kind
." - Fred Rogers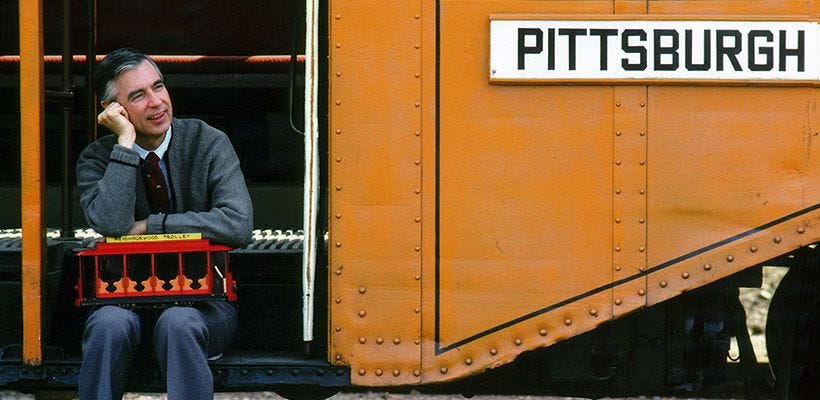 I choose to surround myself with people who think like Fred Rogers.
I absolutely love all of the weird, kind people I've scooped up while living in Pittsburgh, New York, Los Angeles, San Francisco, and Detroit.
The network you curate means a lot. It's probably your most valuable asset.
A recent episode of Hidden Brain, The Snowball Effect, was a helpful reminder.

Why do some companies become household names, while others flame out? How do certain memes go viral? And why do some social movements take off and spread, while others fizzle? Today on the show, we talk with sociologist Damon Centola about social contagion, and how it can be harnessed to build a better world.

Topics discussed in The Snowball Effect: Twitter, Organic Food, the Civil Rights Movement, Social Proof, the Ice Bucket Challenge, Human Rights Campaign, Black Lives Matter, Strong Ties vs Weak Ties, and Donald Trump.
My key takeaway: Our daily interactions matter a lot. All of them.
---
Runner up on my podcast list this week:
How I Built This Resilience: Alex Lieberman and Austin Rief of Morning Brew.
Check out Morning Brew, the daily email that makes reading the news actually enjoyable. #newslettergoals #scrappyAF
---
A Cork Board of Love
Back in January, I wrote about Austin Kleon's book Steal Like An Artist. I love this book. One particular section has stuck with me hard:

Seeing yourself as part of a creative lineage will help you feel less alone as you start making your own stuff. I hang pictures of my favorite artists in my studio. They're like friendly ghosts. I can almost feel them pushing me forward as I'm hunched over my desk.

I took his advice to heart. I implemented. I executed, damn it!
I started by surrounding myself with things created by artists I admire - Kurt Vonnegut, David Byrne, Jeff Tweedy, Mark Rothko. This week, I started to add my favorite founders and startups. The people who push me forward.
It's not even close to full. I just got a home printer two days ago. I can't wait to add to it.
Advice: Stay top of mind all the time.
---
This Week's Rough Rider: Jeremy Brockett

Stop, drop, shut 'em down, open up shop…
Earlier this week, Grant and I "workshopped" the Rough Riders section of this newsletter.
Rough Riders are the people who help the LaneSpotter team on our quest to build the world's best bike maps. Rough Riders are people with grit, determination, and the willingness to put up with our insane requests.
This week's Rough Rider: Jeremy Brockett.
It's currently 10:33pm on Thursday night. I need to schedule this email for Friday, 8:10am. Completing this task quickly will allow me to have one last beer (see below) to close out the hardest part of my week. I text Grant, "Help me tell this story."
From Grant: You start texting David crazy questions and he's' like, "I can't deal with these loons," so he suggests we reach out to his pal Jeremy. Jeremy is a guy you know from back in the old days. Ryan Walsh, ModCloth, Loyaltree, Brock Bergman. Next thing we know, Jeremy is in GitHub, Mapbox, AWS, and our Slack (yes, added him immediately). "Hey man, you're now part of our weird cult." He sat with us, answered a torrent of questions, and without blinking an eye said, "Okay."
He left for an hour, and when he came back to us, he had a functional database for LaneSpotter.
Legendary Rough Rider, that Jeremy Brockett.
Side note: This is actually how the world works. Harness it.
---
Who Lives in Your Backyard?
During the pandemic, I moved to the Swisshelm Park neighborhood of Pittsburgh. It's a tiny neighborhood, tucked away on the East side of the city, right next to a 644-acre urban park. My favorite park. Frick Park.
Nobody knows my tiny neighborhood exists.
Nobody expect for the 20 turkey that live on my street. Here are five of them.
And if you haven't picked up on it yet, I absolutely love animals.
This is why I think I need to get a wildlife camera for my backyard.
Check out the photos and video from this NY Times article, Why You Need a Wildlife Camera. Bobcat are a fave for their aloofness. Worth it.
---
And now, it's time to sunset this edition.
To celebrate another small win, I'm gonna crack a beer from Trace Brewery and send a virtual cheers my friend Adam Soorma. Can't wait to belly up.
Cheers friends.

Until next time,
✌️ Lynsie
---
#blacklivesmatter #womxnrule #legalizeit #investinthemidwest